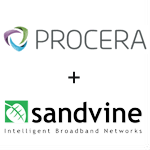 A Procera Sandvine merger was announced today. PNI Canada Acquireco Corp (PNI), an affiliate of Procera Networks will acquire Sandvine for CAD$562 million (about US$433.3 million), according to a press release.
Procera and Sandvine provide network visibility, management, monitoring and control hardware and software used by telecommunications and enterprise networks. The practice is coming to be known as offering network intelligence services. If the deal closes, the combined company will serve more than 400 service providers with more than 1 billion subscribers in more than 100 countries, according to Andrew Kowal, a Partner at Francisco Partners in the press release, the private equity firm working with Procera.
The ability to control network traffic and, if necessary, peer deeply into packets is increasingly important. Traffic must be prioritized across several axes. In some cases, the requirements – which generally are spelled out in service level agreements and can lead to financial penalties if not fulfilled – relate to encryption and other types of security.
In others, prioritizing traffic is key to meeting latency, jitter and other sensitive technical parameters. This might entail, for instance, empowering the network to prioritize broadband video over emails if traffic reaches a certain level.
This oversight, and the technical changes that must be performed in order to meet requirements, grows in difficulty as data speeds increase. The goal is to perform these tasks inline – and thus more quickly — and not through routing, but through a separate piece of hardware, or possibly software.
Procera Sandvine Merger
The combined company will be led by Lyndon Cantor, Procera's Chief Executive Officer and Chief Financial Officer Richard Deggs.
The sale of Sandvine was the result of a process held under the business Corporations Act of Ontario. A special meeting of shareholders will be held next month to vote on the transaction. The deal actually is between Sandvine and PNI Canada Acquireco Corp. ("PNI"), an affiliate of equity capital firm Francisco Partners and Procera.
The company also today announced that it and Scalar Acquireco Corp. have terminated a previous agreement. Under that agreement Sandvine was to be acquired by Vector Capital, a private equity firm. Sandvine paid a breakup fee of about CAD$16.9 million to an affiliate of Scalar.