Private wireless networks are poised to play an important role on the nation's farms, potentially creating opportunities for rural network operators, as news this week from Inland Cellular and edge computing provider Trilogy Networks illustrates.
We talked to Venky Swaminathan, co-founder and chief technology officer for Trilogy Networks, and Nancy Shemwell, chief operations officer for the company, about the partnership and the partners' plans for supporting precision agriculture.
The partnership aims to address a potential obstacle to the adoption of precision agriculture.
"Even where I have connectivity to the farm, you have to get communications across the farm," observed Shemwell. This will become increasingly important, she said, as precision agriculture increasingly requires "real-time decision making at the edge."
The Trilogy Inland Cellular Deal
The Trilogy Inland Cellular deal aims to provide that ubiquitous farm-wide coverage. It calls for Inland Cellular to offer private wireless to farms in its service area in the northwestern U.S. to blanket the farm with wireless coverage.
Private wireless networks use the same technology as public networks but are for the exclusive use of one company or public entity, or in this case, one farm. Inland Cellular will use licensed and unlicensed CBRS spectrum to support the offering, Swaminathan said. Technologies supported will include cellular technologies such as 4G and 5G, as well as Wi-Fi and LoRaWAN.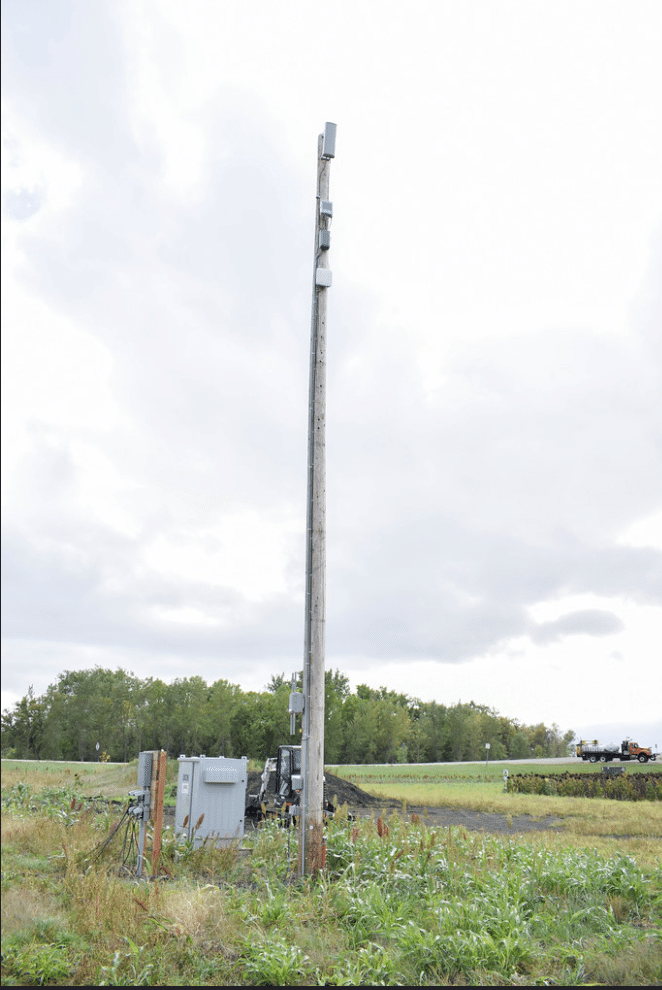 Until now, private wireless networks have been the domain of large corporations or public entities that either build their own networks or purchase those networks as a service from one of the nation's largest carriers such as AT&T and Verizon. But rural companies like Inland Cellular may be better positioned to provide private wireless networks to support precision agriculture and, as Swaminathan noted, Trilogy wants to establish more relationships like the one it has with Inland Cellular.
In the Inland Cellular Trilogy deployments, data gathered on a farm's private network using precision agriculture will be sent to edge data centers operated by Trilogy. Connectivity can be via a landline broadband link or via Inland Cellular's commercial wireless network.
FarmGrid
Network connectivity is one of three elements that comprise what Trilogy calls the FarmGrid. The other two elements, which will be provided by Trilogy, are the cloud and an app store.
To minimize latency, the cloud will be deployed in edge data centers operated by Trilogy. For the Inland Cellular deployment, the edge data centers will be located in Inland Cellular network facilities. (Trilogy also has similar deals with some other rural network operators and is seeking more such deals, which can be with wireline or wireless operators.)
The app store is where farmers will purchase the precision agriculture applications of their choosing, to be supported by the private wireless network and the edge data centers. Trilogy has established a framework that providers of precision agriculture applications can use to establish themselves with Trilogy.
Moving forward, Trilogy anticipates that some developers of precision agriculture may need the type of infrastructure underlying the Inland Cellular Trilogy deal but may prefer not to have to build and operate that infrastructure.
"As the need for action against data becomes more and more a part of the agricultural industry, we will see pressure from companies that would love to see this type of technology in place," forecasts Shemwell. "Those partners want the actionable data and may evolve with us."
Has the Government Caught on to This?
The government has taken an interest in precision agriculture over the last couple of years.
It's part of a USDA initiative called Agriculture Innovation Agenda and the FCC has a precision agriculture task force. Additionally, plans for the FCC 5G Fund for Rural America include directing $1 billion toward precision agriculture.
I haven't heard anything from the government about using private wireless networks to support precision agriculture, but it would certainly seem to make sense. Connectivity –and the investment needed to support it – can be more tightly targeted using private wireless networks, potentially saving money in comparison with attempting to expand public wireless networks to provide equivalent coverage.
The announcement about the Inland Cellular Trilogy deal came the same week that Telecompetitor covered a report from Benton Institute for Broadband & Society about the need for farm-wide connectivity to support precision agriculture.