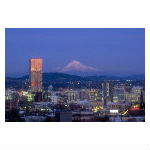 Portland may soon join the exclusive, but growing list of Gigabit cities. The Portland Business Journal is reporting that the Portland City Council voted 5 – 0 in favor of bringing Google Fiber to the Oregon hub. Portland is one of the nine new metro markets that Google identified for the expansion of their 1 Gbps FTTH service.
Portland Google Fiber
According to the Portland Business Journal, the city council approved a franchise agreement for Portland Google Fiber to operate through December 2024 and includes a quarterly 5% franchise fee based on gross revenue. Google will be allowed to use their fiberhood approach, which requires a certain level of buy-in from households in a given neighborhood before Google commits to build the FTTH last mile access to it.
The agreement also states that Google will offer free service to certain community organizations for 10 years. Google typically offers three packages for Google Fiber. A $120 double play bundle of video and Gigabit broadband; a $70 Gigabit broadband only service; and a "free" service of 5 Mbps, provided the user pays a $300 connection fee. No phone service is offered.
This is only the first step in the process, but an important one. Google hasn't decided if they will actually come to Portland yet. They will review the Portland opportunity, along with the other markets where they have expressed interest, which include Phoenix, AZ; Salt Lake City, UT; Atlanta, GA; and Nashville, TN among others. San Antonio, TX has reached a similar agreement to Portland's for Google Fiber.
"This franchise agreement is an important step along the path to Fiber, so it's great that it's been approved. There's still a lot of work to do beyond this one agreement, but we hope to provide an update about whether we can bring Fiber here later this year," said Google spokeswoman Jenna Wandres in an email to the Portland Business Journal.
There is a somewhat competitive aspect for these Gigabit networks. Raleigh-Durham, North Carolina is on Google's expansion list, but it appears AT&T is trying to get there first. Will we see a similar competitive move for the Portland market?