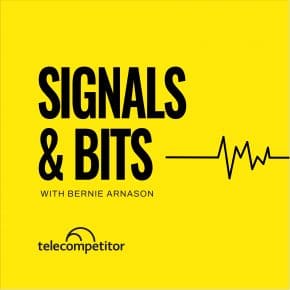 Transcript
Intro:
Welcome to Signals and Bits, a podcast where Bernie Arnason, Editor in Chief of Telecompetitor breaks down some of the most important news coming out of the broadband industry. We'll keep it short and to the point. Let's dive in. 
Bernie Arnason:
Hello everyone, and welcome to the inaugural edition of Signals and Bits. I'm Bernie Arnason, and I run Telecompetitor along with a team of editors and dedicated folks behind the scenes who work hard to bring you a daily snapshot of important news and developments in the broadband industry. With Signals and Bits, I'll be offering my brief take or commentary if you will, of what's happening in the broadband industry – what's the important stuff that's going on. There is a lot of action in broadband going on today, lots to cover, but I'll be focusing my commentary on fixed wireless, fiber broadband, the RDOF program, and I'll sprinkle a few other things in between.  
Now, as you're probably aware, fixed wireless is seeing some serious momentum here in the US, and that momentum is driven primarily by T-Mobile and Verizon, certainly not exclusively those two, but primarily those two. They've added over 500,000 new fixed wireless subscribers in the first quarter of this year alone. And collectively, I've seen analyst reports that predict those two companies will have close to 10 million fixed wireless subs by the end of 2026. So that's some incredible growth that their prediction will take place over the next four years. 
T-Mobile's CEO went so far as to say the company has a rural precision playbook that targets the next rural markets for the company to launch this service into. And they're getting aggressive with pricing. They recently announced a $30 bundled price for their home internet. Verizon is even more aggressive doing the same thing, offering a $25 bundled service for subscribers to both mobile and fixed. But I think the larger threat will come in more competitive markets. The ones that these companies are potentially looking to expand into. There's a lot of expansion going on into neighboring markets. 
You may not be seeing this competition from T-Mobile in your home market, but if you're eyeing another market to edge out into and overbuild with fiber, they could soon have a fixed wireless competitor if they don't already, if it doesn't exist there already with fixed wireless. We all know customers can be fickle and we could easily be reporting with a headline a year from now that says something to the effect of, "Hey, what the hell happened to all that fixed wireless momentum?" So, we'll have to stay tuned to see what happens there. 
Now give me an opportunity to digress for a minute, which I plan to do on Signals and Bits. And I want to talk about something not broadband related, and that is, did you witness Rich Strike at the Kentucky Derby last week?
Kentucky Derby clip:
Once again, we're ready for a start. They're off. 
Now, I didn't see it live, but it is a site to see, even if you're not into horse racing. So Rich Strike is a $30,000 horse that wasn't even supposed to run in the Kentucky Derby. It only got in because another horse scratched. And this $30,000 horse was running against horses that easily cost millions of dollars. And with 80 to one odds, the worst odds in the field, and that's second only to in history of 93 to one odds horse all the way back in 1913, Rich Strike pulls it out in amazing fashion and wins the race.
Kentucky Derby clip:
Simplification is next. As they arrive into the final furlong, Zandon is coming after him. Epicenter and Zandon, these two stride for stride. Simplification down the outside is next, and coming down to the wire, Epicenter, Zandon. Rich Strike is coming up on the inside. Oh my goodness! The longest shot has won the Kentucky Derby! Rich Strike has done it in a stunning, unbelievable upset! 
It's one of those under underdog stories that you love to see. 
Back to broadband. I wonder, does anyone else see a bit of a perfect storm coming with fiber broadband? Here, you have surging fiber network construction happening already. If you read Telecompetitor, you see a daily symphony of announcements for new fiber construction ranging from the largest conglomerate carriers all the way down to the smallest rural providers, all building new fiber networks. What's going to happen when you flood the market with another $43 billion? I feel like we're setting ourselves up for a bit of an epic fail here because we have expectations from government regulators to have shovel ready projects and build networks quickly, get it out into market quickly. 
And those expectations simply won't match up with conditions on the ground. So, something is going to have to give. Part of what's contributing to this is RDOF. Remember RDOF, the Rural Digital Opportunity Fund? Which is also doling out billions of dollars for roll broadband. But the FCC announced its most recent list of ready to authorize funding. They authorized another $200 million here recently and companies like Lumen, CenturyLink, Cable One, Connexion, and Tombigbee electric cooperative were on that list, among others. But even though the FCC has committed a majority of the 9.2 billion of the RDOF budget, several of the top 10 winners have yet to be authorized, including companies like SpaceX, LTD Broadband, and Nextlink. And an interesting caveat, among those that have not been authorized yet, many of them have pegged fixed wireless as their main technology, including LTD, Nextlink and Starry Internet. 
So, do you think those companies might be sweating a bit? I suspect we'll see one or two of them denied ARDOF funding for various reasons. And that will be interesting to see unfold how that plays out. Now, let's get off of broadband again for a second. I feel compelled to bring this up because frankly I'm just disgusted. Have you heard of Tropicana Crunch cereal? Apparently, it's this monstrosity of an idea that is cereal made for orange juice. You use orange juice instead of milk in your cereal. What kind of end of civilization crappy idea is this? Who came up with this? Come on. 
All right. Some interesting news of milk in the past couple of weeks, Frontier Communications got its hand slapped by the FTC for lying about how fast its internet service is. As a result, the company's going to have to pay an eight and a half million dollar fine and do a bunch of other things to resolve that issue.
There was a new broadband association launched last week, the American Association of Public Broadband. Well, it was formed to look out for the municipal broadband movement since you have so many municipal networks launched and they've got trade group now looking out for their interest there in Washington. The cable industry, they're one step closer to their 10G initiative, which basically is the next generation of DOCSIS or DOCSIS 4.0, which will allow cable companies to offer symmetrical multi gig service and better compete with fiber operates. 
Comcast did a trial recently on a live network that achieved speeds of eight and a half gig down and six gig up. So, it'll be a couple of years before we see DOCSIS 4.0 in the market in any meaningful way, maybe longer, but there is progress. And finally, the NRECA, trade association for rural electric cooperatives, launched a new membership category for broadband providers. The new services will include focused relationship building and lobbying on Capitol Hill and at other federal agencies, plus exclusive events and publications with enhanced services and analysis. 
So folks, that's a wrap for the first edition of Signals and Bits. Thanks so much for listening. I'd love to hear your feedback, good or bad. Drop me a line at bernie@telecompetitor.com. You can look for new episodes every couple of weeks or so and use them to get caught up with the most important things going on in our industry, and plus my snarky observations on a bunch of other stuff too. Thanks again. And as always check us out at telecompetitor.com. Take care, everyone.
Kentucky Derby sound provided by NBC Sports
View all podcasts