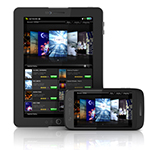 Plans for a T-Mobile video offering moved closer to realization today with the announcement of an agreement between the wireless provider and content giant Viacom. T-Mobile video plans include providing live linear feeds of Viacom channels as well as on-demand content.
Viacom's holdings include popular channels such as MTV, Nickelodeon, Comedy Central, BET, Paramount and others.
T-Mobile Video Plans
T-Mobile announced plans to offer video service last year when it acquired Layer3, which provides a video service delivered "over the top" (OTT) using a broadband connection in several markets. Since then, T-Mobile has said that its initial video offering will be an in-home video service, to be followed by a mobile video offering. The in-home offering potentially would work with a wired broadband connection, perhaps via a Wi-Fi connection.
According to today's press release, Viacom will be a "cornerstone launch partner" for T-Mobile video service.
T-Mobile CEO John Legere said previously that he plans to use the company's trademark Un-carrier approach in combination with Layer3's assets to "fix the pain points and bring real choice" to TV viewers. He continued that theme today, commenting in the press release that "TV programming has never been better, but consumers are fed up with rising costs, hidden fees, lousy customer service, non-stop BS . . . That's why T-Mobile is on a mission to give customers a better way to watch what they want, when they want."
Also in the release, Viacom President and CEO Bob Bakish said the T-Mobile Viacom offering would represent "an important evolution in how audiences consume our content."
The Big Picture
Wireless providers have become increasingly interested in video as video traffic on their networks continues to climb. AT&T's WatchTV offering, for example, is mobile-focused.
T-Mobile waded into the mobile video waters in 2015 with its BingeOn offering that enabled customers to watch certain video content on their phones without having the traffic count against their monthly data allotment. Subsequently, the carrier offered a free Netflix subscription to customers on the T-Mobile ONE family plan.