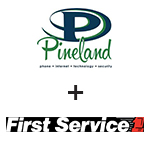 Pineland Cogentes, the IT and managed services subsidiary of Georgia-based Pineland Telephone Cooperative, has merged with First Service Carolina, another IT and managed services company. The merged companies will be able to offer customers increased technical support and cutting-edge information systems, said Steven McComas, current CFO of Pineland Telephone and the new CEO of the merged companies, in a press release. First Service was founded in 1981 in Raleigh, N.C.
Pineland also announced that regional broadband operator, North Carolina-based Wilkes Communications, has become an equity partner in Pineland Cogentes.
A new name for the merged company will be announced in the future, a Pineland spokesperson told Telecompetitor.
Pineland First Service Carolina
Companies like Pineland Telephone that started out as rural telecom service providers increasingly are branching out into new business areas as their traditional business erodes. The IT and managed services business is a logical area to move into, as it has synergies with telcos' broadband and other communications services.
Pineland Cogentes offers managed technology solutions, support and maintenance, including hardware, software and networking sales; network design and maintenance; managed, cloud and hybrid backup solutions, data recovery and transfer; cybersecurity analysis and repair.
First Service initially offered maintenance and installation services of computer networks for small and medium sized business, but has expanded in size and service, specializing in the legal, medical and financial industries, a press release notes. In recent years, the company has improved its technical proficiency, particularly in security and cloud infrastructure, Pineland said.
For First Service, the decision to merge with Pineland Cogentes was driven, in part, by a desire to be able to serve enterprise customers, according to the press release, which notes that First Service will be able to expand its offerings and services, while Pineland Cogentes will gain additional staffing and concentrated specializations by new subject matter experts.
"The combined company's most important asset is our technical teams across Georgia and North Carolina," said McComas in the press release.
A Broader Trend
Pineland isn't the only smaller independent telecom and broadband provider to use M&A to expand its proficiency in IT and managed services.
Back in September, South Carolina-based provider Hargray Communications said it planned to acquire Georgia-based IT services company Infinity Network Solutions.
And in October, Nextlink, a competitive provider focused on rural areas of several states, said it had acquired the internet service business of Connecting Point (ConPoint), a company based in Norfolk, Nebraska that also offered network management, workstation management and other services.
Those are just two of the most recent examples. Adding the Pineland First Service deal to the list makes three examples in less than six months,