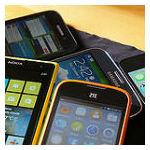 A new report from the Pew Research Center finds that 20% of Americans exclusively use their smartphones at home for internet access – they don't subscribe to a traditional wireline broadband service. The figure shows a strengthening of this smartphone-only homes trend. According to Pew, only 13% of Americans in 2015 said they were smartphone-only users.
Meanwhile, 65% of Americans told Pew that they have traditional broadband service in their homes, similar to the 67% figure reported in 2015.
Pew also reported that people who rely on their smartphones for home internet service are disproportionately less likely to have attended college compared with those with traditional broadband service.
These people also tended to have lower incomes than their broadband-subscribing counterparts. Thirty-one percent of Americans with an annual household income of less than $30,000 are smartphone-only internet users, more than three times the share among those living in households earning $75,000 or more per year (9%). According to the research center, this phenomenon is also notably more prevalent among African-Americans and Hispanics than among Caucasian Americans.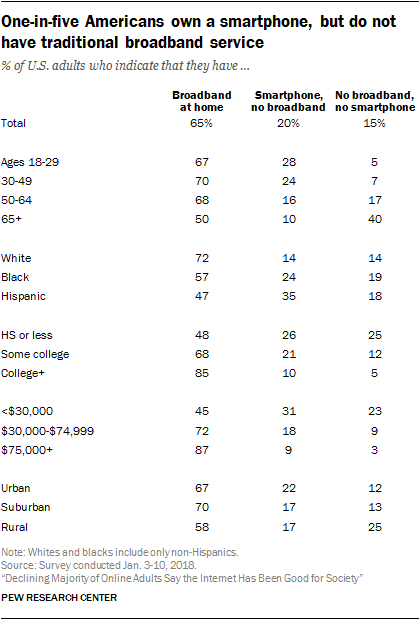 Interestingly, 15% of Americans reported that they have neither broadband service at home nor a smartphone. Many in this group are not online at all: 11% of Americans indicate that they do not use the internet or email from any location. In other cases, the share without home broadband or a smartphone represents Americans who go online using other means.
And as was the case with smartphone-only internet usage, those who lack both broadband service and a smartphone are disproportionately likely to be from certain segments of the population, according to the study. Most notably, 40% of Americans ages 65 and older fall into this category. But this is also true for substantial minorities of rural residents (25%), those who have not attended college (25%) and those from households earning less than $30,000 per year (23%).