Nearly two-thirds of Americans own a smartphone, including 10% of Americans who do not have traditional broadband at home and 7% who have neither broadband at home nor "easily available alternatives for going online other than a cell phone," according to a new report from Pew Research Center for Internet, Science & Tech.
Pew adds that "[t]hose with relatively low income and educational attainment levels, younger adults, and non-whites are especially likely to be 'smartphone-dependent'," relying on that device for their only access to the Internet.
In its latest research report, "U.S. Smartphone Use in 2015," Pew documents the unique circumstances of this 'smartphone-dependent' population.
"Experience sampling" conducted by Pew researchers over the course of one week reveals just how deeply ingrained use of mobile devices has become, particularly for young American adults. Among the findings, smartphone usage "often produces feelings of productivity and happiness." That said, "many users also feel distracted or frustrated after mobile screen encounters."
Smartphone Dependency
Among the report's highlights, Pew found that:
15 percent of Americans ages 18-29 are heavily dependent on a smartphone for online access;
Some 13 percent of Americans with an annual household income under $30,000 are "smartphone-dependent." That compares to just 1 percent of those from households with incomes over $75,000 per year who rely on smartphones for Internet access to the same degree;
12 percent of African-Americans and 13 percent of Latinos are smartphone-dependent as compared to 4 percent of whites.
Besides being less likely to own another type of computing device, smartphone-dependent Americans "are less likely to have a bank account, less likely to be covered by health insurance, and more likely to rent or live with a friend or family member rather than own their own home."
Smartphone-dependent Americans, moreover, often wind up having only intermittent access to online information and communications resources and services. "Nearly half (48 percent) have had to cancel or shut off their cell phone service for a period of time because the cost of maintaining that service was a financial hardship," Pew points out. Just over half (51 percent) said "this happens to them at least occasionally."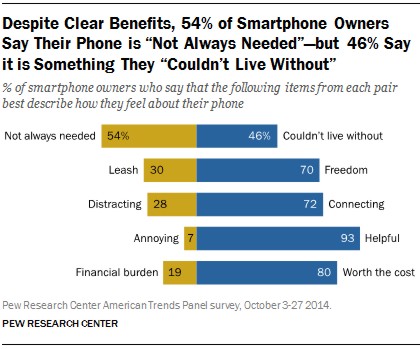 Highlighting the extent to which Internet access and mobile devices have become integral aspects of American life, Pew found that U.S. smartphone owners are using their mobile devices to do much more than phone, text or go online:
62% of smartphone owners have used their phone in the past year to look up information about a health condition;
57% have used their phone to do online banking;
44% have used their phone to look up real estate listings or other information about a place to live;
43% to look up information about a job;
40% to look up government services or information;
30% to take a class or get educational content;
18% to submit a job application.