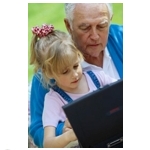 Members of the 'millennial' generation–ages 18-33– continue to be the most active age cohort when it comes to spending time online, but the gap in online activity with their elders is shrinking. Of greater significance, "while the youngest and oldest cohorts may differ, certain key internet activities are becoming more uniformly popular across all age groups," according to the Pew Internet & American Life Project's "Generations 2010" report.
Whereas millennials are more likely to use social networking sites, instant messaging, online classifieds, listen to music, play online games, read blogs and participate in virtual worlds, Gen Xers (ages 34-45) are more likely than their millennial counterparts to engage in several online activities, including visiting government websites and getting financial information online," according to an overview of the report.
The biggest online trend, according to Pew researchers is that people across the age spectrum surveyed are spending more time online in activities including email; search engine use; news gathering; buying products; making travel reservations or purchases; online banking; looking for religious information; rating products; services; or people; making online charitable donations; and downloading podcasts.
The number of Internet users 74 and older using social networks has quadrupled since 2008, increasing from 4% to 16%, though those in younger age groups are still much more likely to use them.
The percentage of all adult Internet users who watch videos online increased 14%, from 52% in May 2008 to 66% in May 2010;
The percentage of all adult Internet users who listen to music online increased 17%, from 34% to 51% during the same period.
Fifty-three percent of all adult Internet users had used an online classified ads website such as Craigslist as of May 2010, up from 32% in September 2007.