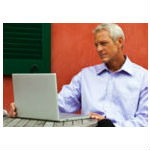 Older Americans are online in greater numbers than ever, according to new research results from the Pew Internet & American Life project. As of April, 53% of U.S. adults ages 65 and older were using the Internet or email. Though that's still smaller than any other age group, it's the first time half of all U.S. seniors were going online.
There's been little growth in Internet use among older Americans, which makes the recent gains significant, according to Pew's analysts.
In addition, 34% of Internet users 65 or older were using social networking sites as of February, with 18% doing so on an average day. As of August, 2011, 86% of elderly Internet users were using email, with 48% doing so on an average day.
More U.S. seniors are also buying electronic gadgets, Pew has found. Some 69% of U.S. adults ages 65 and up reported having a cell phone, up from 57% in May 2010. Fifty-six percent 76 and older reported owning a cell phone, up from 47% in 2010.
Though Internet usage has plateaued somewhat in recent years, there's been significant growth in the Internet activities users are engaging in, Pew found in a research report published in April.