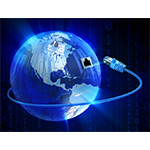 Interest in making broadband available nationwide has grown substantially in the last few years – and not just at the federal level. New research from The Pew Charitable Trusts found increased activity at the state level as well, with the majority of states having some type of broadband program, explained Kathryn De Wit, manager of the organization's broadband research initiative, in an interview with Telecompetitor.
She cautioned, though, that "an important point to consider is whether those efforts are active or funded."
The Pew Charitable Trust's new research comes in the form of a 50-state database released today that includes information about state-level broadband policy and legislation.
"The goal was to make it as easy as possible for any user to understand," said De Wit about the database, to be known as the State Broadband Policy Explorer.
In gathering information for the database, she said, "what we learned is that states really are saying that broadband is a priority."
The states, she said, are "using policy to set goals and set a pathway to get to those goals."
According to the organization's website, The Pew Charitable Trusts "use evidence-based, nonpartisan analysis to solve today's challenges." The organization shouldn't be confused with Pew Research Center, which is a subsidiary.
State Broadband Programs
As researchers at Pew Charitable Trusts compiled information for the Explorer database, they found that state broadband initiatives fell into several distinct categories, including:
Broadband programs aimed at spurring broadband deployment. Some states are setting up task forces and identifying who will be responsible for coordinating broadband deployment efforts, De Wit noted. Different states have different broadband goals, she noted. For example, she said Minnesota and West Virginia are seeking "border-to-border universal coverage" while California wants to connect 98% of the population within each of 20 regions.
Competition and regulation. This category includes legislation detailing which entities are allowed to offer broadband and which are not – a category of legislation that Telecompetitor has frequently covered.
Definitions. Different states define broadband differently, De Wit noted. While some focus on speed, others look at technology type. These definitions are important because they are used to determine which services are eligible for public funding.
Infrastructure access. This category includes "dig once" policies, rules for small cell permits and rights-of-way access and the like.
Funding and financing. This includes state-level funding programs, including some that may not yet have been fully established.
Perhaps it's not surprising to see an increase in state broadband funds, considering that the U.S. Department of Agricultures's ReConnect rural broadband funding program favors projects that will also receive some state-level funding.
As De Wit noted, states are setting up broadband offices "in order to facilitate those funds."
Pew Charitable Trusts hopes the Explorer database will be used by community groups, service providers and others wanting to understand the broadband policy environment in a state.
Moving forward, Pew researchers also plan to explore which state-level policies have been most effective at spurring broadband deployment. Plans also include updating the database, although a specific schedule for doing so has not yet been established.
Pew Charitable Trusts also will be releasing research about broadband funding later today.