More Americans are using smartphones and tablets,  but usage of some other types of connected devices has dropped, according to the latest research report from Pew Research Center.
Nearly 7 in 10 U.S. adults (68 percent) own smartphones as compared to 35 percent in 2011, Pew researchers determined upon surveying a nationwide sample of 1,907 adults ages 18 and older. Adding in feature cell phones, that rose to more than 9 in 10 (92 percent), up from 65 percent in 2004. That makes mobile phones the most widely used connected device in the nation.
Smartphone Ownership
Smartphone penetration and age are inversely related, Pew found. Smartphone ownership is nearing saturation among adults 18-29 (86 percent) and 30-49 (83 percent). In addition, nearly 9 in 10 U.S. adults living in households with annual incomes of $75,000 or more (87 percent) own smartphones.
At the same time, tablet penetration among U.S. adults has increased gradually to reach 45 percent. That's up from around three percent in 2010.
Rising penetration of smartphones and tablets contrasts sharply with those for other digital connected devices, including PCs (portable and desktop), PC game consoles, and e-readers, penetration of which has leveled off or declined.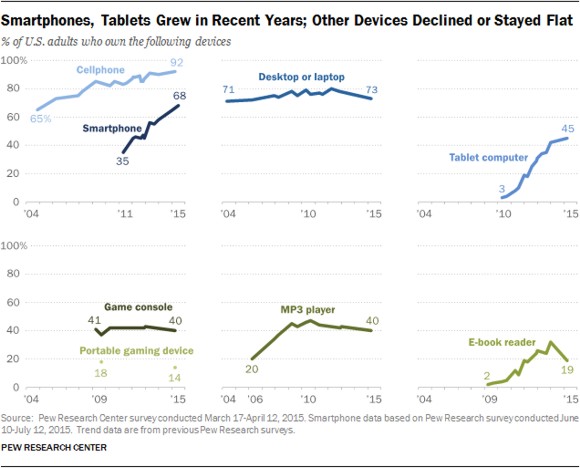 Desktop or laptop PCs rank second in penetration among U.S. adults at 73 percent, just slightly higher than the 71 percent measured back in 2004 when Pew Research Center first began monitoring and analyzing Internet-connected device usage and behavior.
Ownership of e-readers has fallen farther. About 1 in 5 U.S. adults (19 percent) own an e-reader today, down from nearly one-third (32 percent) in early 2014. And while ownership of MP3 players hasn't exhibited a substantial decline, penetration has stayed around 40 percent since 2008, Pew highlights.
Similarly, the percentage of U.S. adults who own game consoles today is 40 percent, about the same as in 2008, when it was 41 percent.
Pew attributes the lack of growth or declining penetration to these specialized devices to more recently introduced smartphones and tablets, which now serve as multi-purpose connected devices.
This is most evident among younger adult age groups, Pew points out. Ownership of MP3 players among those 18-29 has fallen by double digits over the past five years: 3 in 4 owned one in 2010 as compared to just half (51 percent) in 2015. A similar trend has occurred in game console ownership. Just over 6 in 10 (62 percent) owned one in 2010. That dropped all the way down to 56 percent this year.
Pew researchers note a similar pattern regarding PC ownership. Just under 8 in 10 (78 percent) of U.S. adults own a PC today as compared to nearly 9 in 10 (88 percent) who did so in 2010.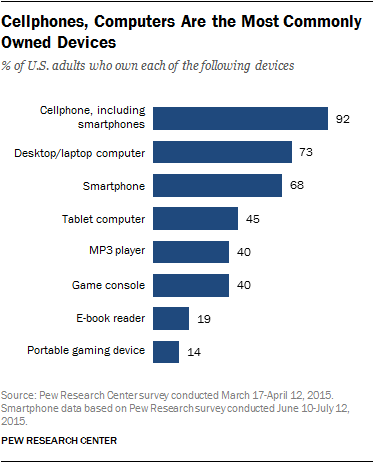 Smartphone ownership now surpasses both PCs and MP3 players among U.S. adults, with penetration highest among younger adults. Well over 8 in 10 of those 18-29 (86 percent) own a smartphone today. These younger adults apparently don't feel as much of a need as older adults to own other kinds of devices, PCs included, Pew added.