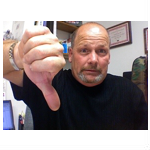 A large majority of adult U.S. cell phone users have problems with their cellphones — and 88% of U.S. adults own or use cell phones, according to a report from the Pew Internet & American Life Project. Seventy-two percent of respondents to a recent Pew survey said they had experienced dropped calls at least occasionally and  68% said they had experienced unsolicited/unwanted sales or marketing calls.
Smartphone owners reported a higher incidence of certain problems than other cell phone owners, according to Pew. For example, 49% of smartphone mobile Internet users reported slow download speeds, compared with only 31% of respondents who use other types of cellphones to access the mobile Internet. And 29% of smartphone owners who text reported receiving unwanted texts, compared to 20% of people who use other types of cellphones to text.
Other key findings of Pew's "Mobile Phone Problems" report:
Some 32% of cell phone owners said they encounter dropped call problem at least a few times a week.
One quarter of cell phone owners receive unwanted sales or marketing calls a few times a week or more frequently.
Some 79% of cell phone owners said they use text messaging on their cell phones — and 69% of those who are texters said they get unwanted spam or text messages. Of those texters, 25% face problems with spam/unwanted texts at least weekly.
Some 55% of cell phone owners use their phones to go online— to browse the Internet, exchange emails, or download apps. Of those,  77% said they experience slow download speeds that prevent things from loading as quickly as they would like, including 46% who face slow download speeds weekly or more frequently.
Though Pew's research team didn't intend to "measure the incidence of illegal marketing to cell phones," they did focus on "unwanted intrusions," which makes their findings regarding cell phone telemarketing and spam texts noteworthy.
The report authors point out that U.S. law prohibits placing unsolicited commercial calls to mobile phones when the call is made via an automated random-digit dialing generator, or if the caller uses a per-recorded message. In addition, they noted that commercial parties are prohibited by U.S. law from sending spam to cell phone owners who've placed their cell phone numbers on the National Do Not Call registry. Other, related government regulations bar text messages sent from Internet domain names. Mobile-to-mobile spam messages are permitted to use cell phones to reach consumers as long as the contacts aren't generated through an automatic dialing system, the report authors explain.
Examining the Pew survey results along racial/ethnic lines, researchers found that non-white cell phone owners experienced all four problems studied at rates somewhat higher than their white counterparts, a finding they attribute to the possibility that African-Americans and Hispanics are more likely than White Americans to use cell phones as their primary or exclusive device for voice communications and Internet access.
More than half (53%) Hispanic cell phone Internet users reported experiencing slow download times at least weekly compared with 44% of White cell phone Internet users. Some 41% of Black and 39% of Hispanic cell phone owners reported experiencing dropped calls at least weekly compared with 30% of White cell phone owners.
Image courtesy of flickr user m!les.