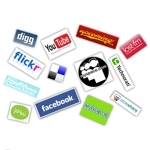 Social networking has grown extraordinarily rapidly in the U.S., to the point where it's now a mass market phenomenon. When it comes to social media, or networking platforms, online American adults are broadening their reach beyond Facebook and signing up for multiple platforms, according to Pew Internet & American Life Project's "Social Media Update 2013."
With 73% of online adults having an account, Facebook remains the dominant social media platform in the U.S. "A striking number of users are now diversifying onto other platforms," however, according to the Pew project's latest findings. Some 42% of online adults in the U.S. now use multiple social networking platforms, the project team found based on a survey conducted by Princeton Survey Research Associates International.
Engagement
In addition to being the most popular of social networking platforms, Facebook also engenders high levels of user engagement: 63% visit the site at least once a day and 40% check in multiple times daily. Other social networking sites also show high levels of engagement: 57% of Instagram users visit the site at least once a day and 35% do so multiple times. Forty-six percent of Twitter users visit daily and 29% do so more than once a day.
Facebook membership extends across "a diverse mix of demographic groups," but "other sites have developed their own unique demographic user profiles." Pinterest attracts female users, for instance: women are 4x more likely than men to be users.
Survey results also revealed that LinkedIn "is especially popular among college graduates and Internet users in higher income households," Pew said. Twitter and Instagram, whose user bases show substantial overlap, appeal to younger adults, urban dwellers, and non-whites in particular.