Two new analyses – one from Verizon and the other from Internet consulting firm NetForecast – argue that Netflix's reported network congestion problems are of its own making.
Verizon's Analysis of Peering Dispute
Verizon's analysis came in a blog post from the company's vice president of federal regulatory affairs David Young. Young reported on traffic level measurements that Verizon recently made throughout its Los Angeles area network with the goal of clearing up accusations that Netflix had made about congestion on Verizon's network.
"There was no congestion anywhere within the Verizon network," wrote Young. "There was, however, congestion at the interconnection to the edge of our network (the border router) used by the transit providers chosen by Netflix to deliver video traffic to Verizon's network." Congestion on that link approached or reached 100% capacity during peak usage periods, Young said.
In comparison, Verizon said the amount of capacity used on links between other backbone networks and Verizon's network ranged between 10% and 80% with an average peak utilization of 44%. And peak utilization on the connection through which Verizon sends traffic to Netflix was 34%, Verizon said.
Young's post is interesting in that it depicts a traffic exchange scenario the company had only hinted at previously: The diagram shows Netflix sending traffic to Verizon using transit providers rather than through the direct connects that Verizon and Netflix reportedly negotiated earlier this year. Those agreements reportedly called for Netflix to pay Verizon for traffic exchange.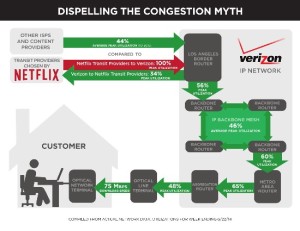 Paid peering is a common practice when one Internet backbone provider sends more traffic to another than it receives from the other provider – and such an imbalance apparently exists between Verizon and backbone operators that transport Netflix traffic because Netflix sends a large volume of video traffic to Verizon's broadband customers.
Although Verizon's diagram does not name the Netflix transit providers, NetForecast says they include Level3 and Cogent. Level3 previously has said that it refuses to pay what it calls "arbitrary charges to add interconnection capacity," arguing that most other backbone providers exchange traffic with Level3 for free.
This suggests that Level3 doesn't pay Verizon for what Verizon would call a traffic imbalance. Accordingly it wouldn't be surprising to see its connections to Verizon running at 100% peak utilization.
What is Netflix Up To?
What isn't clear is to what extent Netflix is using companies like Level3 to deliver traffic. Netflix has touted the superior performance it gets from direct connections – and if Netflix has such connections with Verizon as has been reported, why is it still using Level3 and Cogent? Is it simply a matter of companies like Level3 offering a more economical means of delivering traffic? Is Netflix simply trying to make Verizon look bad in an effort to negotiate a better deal with the company or to persuade regulators to impose interconnection requirements such as those that Level 3 suggested recently?
Netflix previously declined to respond to an inquiry from Telecompetitor about interconnection with Verizon and in a phone interview with Telecompetitor today, Young also declined to provide details about interconnection issues between Verizon and Netflix, stating that what he wrote in the post stands for itself.
In fairness to Netflix and its transit providers, it's worth noting that the diagram  in Young's post conveniently leaves out one detail – which is that the ability of those providers to alleviate congestion on the link to Verizon depends, in part, on the capacity of Verizon's border router. And Verizon in the past has made it clear that the reason it asks for interconnection fees from other providers when there is a traffic imbalance is to help cover the cost of the extra capacity it has to add to handle the extra traffic. Accordingly it wouldn't be surprising to find that the capacity that Verizon dedicates to a company like Level3 is less than would be dedicated to a more compliant backbone network operator.
The interconnection rules that Level3 is asking the FCC to impose would require interconnection capacity at any interconnection location to be promptly augmented and would prevent a broadband service provider like Verizon from charging interconnection fees provided that the other network operator or content provider delivers content into the broadband provider's local market (and provided that a certain minimum traffic level is involved.)
Not An Isolated Issue?
Verizon apparently is not the only broadband provider experiencing interconnection difficulties with Netflix. According to the NetForecast analysis, any broadband provider that doesn't use direct connections with Netflix has experienced congestion because Netflix at times has not had sufficient capacity on its transit provider networks.  Several of the nation's largest broadband providers – including AT&T, CenturyLink, Frontier, Time Warner Cable, Windstream and Comcast, as well as Verizon  – have had congestion problems caused in this manner, NetForecast says.
Comcast said earlier this year that it had reached a direct connect agreement with Netflix which reportedly involved payments from Netflix – an agreement Netflix said it made unwillingly. Neither company has said much about the agreement since then. Accordingly there is no indication whether or not Netflix is relying on its direct connects to Comcast or whether it continues to use third-party transit providers as it apparently is doing with Verizon.