Comcast forecasts average revenue per user (ARPU) of six to seven dollars for the Peacock streaming video service that the company will launch April 15 to Xfinity X1 and Flex customers and nationally on July 15. Most of the revenue will be from advertising, as most customers will get the service for free, although there will be a premium version for $4.99 a month that includes a broader content lineup, as well as version costing five dollars extra with no advertising. The Xfinity X1 and Flex customers will get the premium version for free, as will Cox customers.
The service will offer "the best combination of timely and timeless" content, Comcast said in a promotional video shown at an announcement event today that was also webcast. Content will be drawn from the extensive NBCUniversal library, as well as from current programming and material produced specifically for the platform.
Comcast Peacock Forecasts
The Comcast and Cox customers getting the Peacock service for free will bring the service's initial customer base to 24 million. Comcast expects to have 30 million to 35 million active users by 2024, when the company expects to break even on the offering.
Comcast is launching Peacock because consumers are viewing more video content than ever, but how they watch it has changed, Comcast executives explained at today's event. Today's presentation included a comparison chart of Saturday Night Live viewership of episodes with Eddie Murphy from 1984 and 2019 showing that, although more people saw the 2019 episode, many viewers watched it on demand, on a DVR or via a streaming service – and Comcast's ad revenues are lower or non-existent for those options. (Viewership in millions.)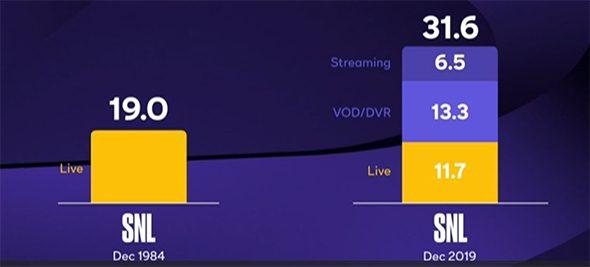 The executives cited research indicating that consumers are experiencing "subscription fatigue" and would like to have a free ad-supported streaming video option.
The Peacock free offering will include 7,500 hours of content, while the premium version will have 15,000 hours, as well as high-definition 4K programming.
Executives also touted the company's customer interface, which they said will enable customers to easily search multiple content options. And Matthew Strauss, chairman of Peacock and NBCUniversal Digital Enterprises, hinted at other options that will make content more friendly to consume. Noting that Spotify "took music to a whole new level" by, for example, providing playlists and giving users the ability to create their own, he said Peacock will do the same for video viewing. A potential video playlist might include the best Saturday Night Live skits with Tina Fey, he said.
Fey and other entertainment luminaries were on hand for the event to highlight original content they will create for Peacock. More details about these offerings are available in today's Peacock press release.