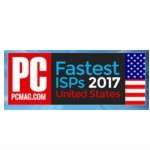 Internet speeds across the U.S. were essentially stagnant,  according to PC Magazine's latest nationwide ISP rankings. This despite the nation's telco ISPs expanding gigabit Internet, fiber-to-the-home (FTTH) and fiber-to-the-premises (FTTP) deployments and cable ISPs expanding deployment of new generation DOCSIS 3.1 broadband cable Internet services.
On the whole, telco and cable ISPs' efforts to add to the rising trend in national U.S. Internet speeds did not have much of an impact on average, according to PCMag, adding that the U.S. isn't even close to breaking into the top 10 nations worldwide when it comes to national average Internet speeds.
Furthermore, 2017 turned out to be an upset year in terms of PCMag's rankings of the fastest ISPs in the U.S. For the first time in seven years, Verizon Fios didn't come out among the top. Verizon Fios' PCMag Speed Index score totaled 48.3, down from last year's 49.6. That was good enough for a third-place finish, PC Mag's Eric Griffith highlights in the PC Mag rankings report.
Similarly, last year's first place-ranked Comcast Xfinity fared worse this year than last. Its overall index score fell from 49.6 last year to 46.6, which left it in fourth place.
According to recently released data from Akamai, the average U.S. broadband speed connection was 17.2 Mbps in the fourth quarter of 2016. That was an increase of 5.5% over the previous quarter and a 21% increase year over year.
Akamai polls its user base to produce its national rankings. PC Mag's nationwide Internet speed test is based on readers submitting the results of speed tests conducted exclusively by the magazine's in-house Speed Test tool.
All the data collected goes into calculation of the PCMag Speed Index, a weighted average score that weights download speeds at 80 percent and upload speeds at 20 percent. That ratio comes about because the magazine's staff believes that download speed accounts for at least 80 percent importance to Internet users.
Generally speaking for this year's round of Internet speed tests, PCMag found that telco DSL connections cannot compete with fiber optics or cable Internet connections. Similarly, wireless carriers that provide the backbone of smart phone connections don't stack up, according to the magazine's "Fastest Mobile Networks" ranking.
ISP Rankings
Hotwire Communications came out on top in PCMag's latest analysis of Internet speed tests across major ISPs – those that operated in multiple states and for which at least 1,000 speed test results were submitted. As an ISP that concentrates on housing developments and MDUs on the East Coast, Hotwire lacked a sufficient number of tests to be included in previous year's surveys.
Standing head-and-shoulders above the crowd, Hotwire garnered a PCMag Speed Index score of 91.3. More specifically, the ISP stands out as the provider of a 10-gigabit residential FTTH service called Hotwire Fision.
Altice USA-owned Suddenlink Communications finished second in PCMag's latest round of U.S. Internet speed tests, moving up one place among major providers as compared to a year ago. Operating in 16 states, Suddenlink's Internet service earned an overall score of 49.6. That bested Altice USA's flagship Optimum service, which came in eighth with an overall score of 39.6.
Commenting on its latest nationwide ISP speed tests, PCMag's Eric Griffith wrote: "We used to be able to say that year to year the ISPs in the US typically got a throughput increase in our tests. The averages this year, however, just don't show it…
"Maybe it's because there is far too much happening on the mergers and acquisitions end of things for domestic ISPs to even pretend to be competitive in ways that matter; you know, the little things, like speed and customer service. They'd rather grow by turning into super-mega-corporations to please stockholders."
Griffith cites Charter's acquisition of Time Warner Cable and Bright House Networks as a prime example. The acquisition and merger would create an "uber-ISP (and now the third-largest cable TV provider in the U.S.) called Spectrum," he highlighted.
The two-year long acquisition has delayed and possibly prevented automatic Internet speed upgrades customers have been expecting for months, he notes. Formerly a Time Warner Cable subscriber, Griffith says he called Spectrum and said he wanted the same high-speed Internet service new customers get and got it. He recommends other former Time Warner Cable Internet subscribers do the same.