How people get their video entertainment is quite fluid, according to a pay TV trends report from Parks Associates. The report says that 34% of pay-TV subscribers in the U.S. changed their service during the past year.
"OTT subscriptions are on the rise, reaching 64% of U.S. broadband households, as pay-TV subscriptions decline, so all players are looking for that magic combination of service types, content, and pricing in order to secure subscribers," Elizabeth Parks, the Senior Vice President of Parks Associates, said in a press release. "Our research helps illuminate consumer interest and expectations as well as enhance the understanding of disruptive business models and technologies in order to craft optimal video service strategies."
Parks research found that roughly half of those subscribers who changed service opted to downgrade their service to a lesser expensive tier.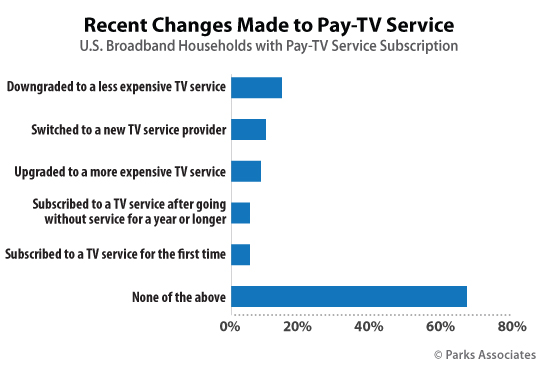 Pay TV Trends Report
There are many signs that the ways in which people consume video is changing drastically. Parks reported in July that Facebook video and other "alternative content" was being viewed two hours per week in U.S. broadband households. This category includes live streaming, user-generated content, short-form videos and Web video series. The sense is that alternative content is a category that is set to grow. The firm also found that the amount of time that people watch video on their smartphones increased to almost three hours per broadband household, an increase of almost 55% from 2015.
Another piece of the puzzle is the growth of OTT. In June, Parks said that there will be 400 million OTT video subscriptions worldwide by the end of 2022. An important underlying point is that these subscriptions will be divided between about 265 million households, meaning that many homes will subscribe to more than one service in order to get the full array of programming that they want.
Image courtesy of flickr user D.Reichardt.