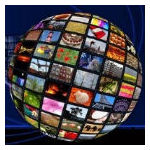 Despite their best efforts to date pay-TV providers are increasingly feeling the heat from over-the-top (OTT) competitors rolling out leaner, more personalized and less expensive on-demand video content to viewers.
Nearly 8 percent (7.7) of respondents to a survey conducted by TiVo-owned Digitalsmiths for its 1Q 2015 Video Trends Report said they switched pay-TV providers in the last three months. That's up 2 percent year-over-year (YoY).
Moreover, 15.3 percent of respondents said they intend to either switch (3.1 percent), change (7.4 percent), or cut their current pay-TV service over the next six months. Nearly one-third (32.4 percent) aren't sure about whether or not they will stay with their current provider, prompting Digitalsmiths to suggest they might need to be enticed to stay.
Pay TV Subscriber Survey Results
All told, incumbent pay-TV providers may need to take immediate action to prevent nearly half (47.7 percent) of survey respondents from jumping ship, reducing viewing or cutting off their pay-TV service subscriptions. The percentages of pay-TV subscribers surveyed who plan to switch or change providers or cancel their subscriptions are up 1.7 percent and 3.5 percent since 1Q 2013, the TiVo-owned market research provider notes.
More than 4 in 10 (44 percent) of the 32.4 percent of survey respondents "on the fence" said they would stay with their pay-TV provider if it were to provide new functionality that improved the content search and discovery process. That's up 6.6 percent from a year ago.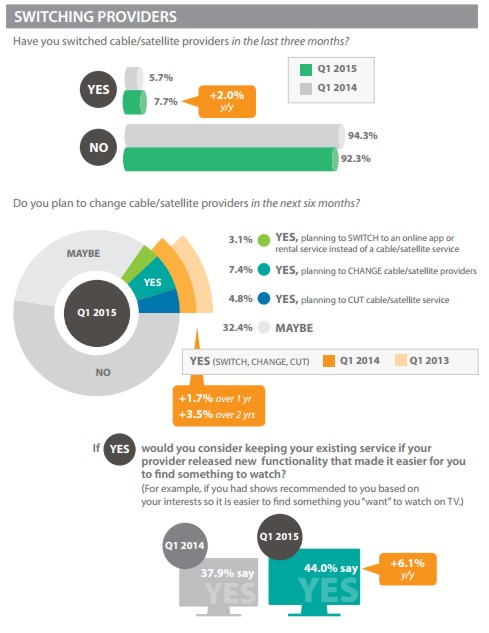 The most commonly cited reason for subscriber dissatisfaction with their current pay-TV provider is rising subscription fees. "Bad channel selection" also ranked highly, coming in as the fourth most-selected choice by survey respondents.
All that said, nearly 6 in 10 (55.9 percent) survey respondents said they were "satisfied" with their current pay-TV service providers. Two in 10 (19.9 percent) said they were "very satisfied." Just under 1 in 4 (24.2 percent) said they were "unsatisfied," a 2 percent YoY increase and the highest since 2Q 2013.
Taking the pulse of respondents' overall viewing behavior, in its latest quarterly video market research Digitalsmiths found that:
45.6% of respondents watch 1 to 3 hours of TV per day;
51.3% of respondents watch 2 hours or less live TV per day;
69.0% of respondents watch 2 hours or less of recorded TV per day;
46.4% of respondents channel surf 5 to 20 minutes per day, but growth is flat y/y and q/q, which is important when tracking the effects of content discovery implementations.
Other highlights from Digitalsmith's 1Q 2015 Video Trends Report include:
The number of respondents who increased their pay-TV services by adding features such as premium channels, Internet service or high-definition video, (18.4 percent) was offset by the numbers who decreased their use of those services (18.2 percent);
Six in 10 respondents are paying $100 a month for pay-TV service, a leading cause of dissatisfaction;
Over 8 in 10 (81.6 percent) said they would like to select only the channels they want to watch rather than being required to sign up for a pre-set package of channels;
Pay-TV providers including Sling TV, PlayStation Vue and Verizon have launched or intend to launch so-called "skinny packages" in response to the á la carte on-demand features offered by OTT service providers.