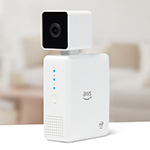 A workshop demonstration planned for this week for the Amazon Web Services (AWS) re:Invent conference aims to illustrate some of the use cases that could become possible using private LTE networks operating in the CBRS spectrum band to support the Internet of Things (IoT). The demo will be underpinned by an integrated platform that uses technology from Federated Wireless, Ruckus Wireless, Athonet and AWS. Potential IoT use cases for CBRS private LTE could include wide area surveillance, remote data transfer, critical communications and others.
We talked to Federated Wireless CEO Iyad Tarazi about the demo, which will give over 100 developers the opportunity to connect DeepLens cameras from AWS to a CBRS private LTE network and explore the deep learning capabilities provided by the DeepLens technology, which is supported by the Amazon cloud. Tarazi noted that the platform also could support other IoT applications that might not involve cameras and that all the partners also are pursuing integrations with other partners' competitors.
"We want to enable as big an ecosystem as possible," he said.
In a blog post, Tarazi noted that "[t]he DeepLens cameras run machine learning models for object recognition" – a capability that can be useful in surveillance and security applications. Tarazi added that "CBRS was the perfect choice to connect a large number of cameras in a single room without impacting throughput."
CBRS Private LTE
The integrated solution that the partners assembled includes an FCC-certified CBRS access point from Ruckus Wireless, a cloud-based mobile core from Athonet that will control the LTE network, the AWS IoT cloud platform and Federated Wireless spectrum controller technology, explained Tarazi. By pre-integrating the solution, he said the partners reduced the time an enterprise might need to set up a CBRS private LTE network to support the IoT from several months to just a few hours.
In the blog post, Tarazi explained it another way. The collaboration, he said, "enables organizations to easily deploy and manage a private LTE network" in a manner that is "similar to deploying a Wi-Fi network."
The Federated spectrum controller is a critical element for CBRS networks that enables network operators to use spectrum on a shared basis with incumbent users.
The AWS IoT platform offers a range of cloud-based capabilities to support IoT applications such as device management and cloud storage, as well as deep learning, Tarazi explained. For the demo, the DeepLens cameras were hard wired to CBRS modules, he said. As of now, he said Amazon has not announced plans for the cameras to include embedded CBRS.
But depending on the reception that CBRS gets in the marketplace, perhaps that's an eventually.
Federated expects its technology to be used to support 16,000 CBRS sites in the first quarter of 2019. Tarazi told us that some sites might consist of a single access point while others might include multiple access points. Among the operators of the 16,000 sites, he said, will be wireless internet service providers and tower operators, as well as operators of CBRS private LTE networks in shopping malls, hospitals, universities, multi-dwelling units and at least one airport.