More than 12 million households in the United States have given up their home broadband service and instead rely on mobile-only connectivity, according to research from Parks Associates.
The study, "Adoption and Perception of Broadband," says another 3 million households have never had a home Internet subscription. All told, 15 million households only have a mobile broadband service.
High cost is the main driver of going mobile-only, according to Parks Associates Senior Analyst Kristen Hanich. Other factors include slow speed, unreliable service, poor customer service and technical and billing issues. She said that faster speeds and better Wi-Fi coverage can help stem the exodus.
Mobile-Only Broadband Households
Improved Wi-Fi seems to be a particularly promising provider response. The firm found that 75% of households that are likely to switch would remain if their provider improves performance with smart Wi-Fi or mesh networking. Ninety-four percent of U.S. broadband households use Wi-Fi, and more than half report problems with their Internet experience, Parks says.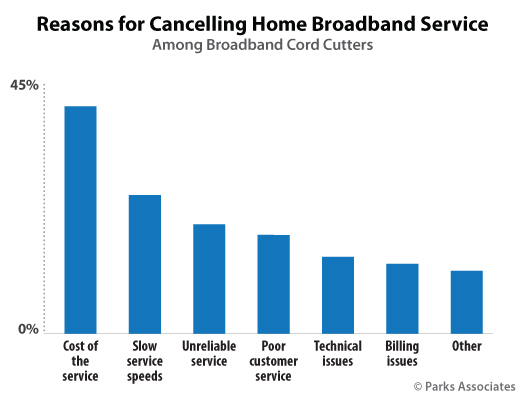 Broadband providers got credit for their performance during the COVID-19 crisis, but it seems that the sector will have to fight to maintain its market share.
"In September 2020, 9% of U.S. broadband households had upgraded their home's broadband service in the previous 12 months, and the COVID-19 crisis was the main reason for 80% of those upgrades," Hanich said in the press release about the mobile-only broadband households research. "Good performance during the COVID-19 crisis has improved customers' opinion of their service providers, but there were dips throughout the year, indicating that providers need to continue to deliver on customer service and innovate in value-added offerings in order to grow and maintain their subscriber base."
Most mobile-only broadband households have cut the broadband cord, a trend that the pay-TV industry is quite familiar with. Last October, The Diffusion Group (TDG) reported that 58 million broadband homes will not use a pay-TV service by 2025. TDG said that the forecast was more dire than the firm's previous look at the topic, which was in 2017.
In both cases, the incumbent is challenged because people are first able to use alternative technologies and business structures to get largely familiar services. The new entrant also may be able to undercut the established player with lower prices and enticing variations on old marketing formulas.
Updated to state that TDG's forecast calls for 58 million broadband homes without a pay-TV service by 2025.