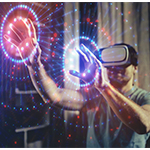 Though extremely popular with online gamers, virtual reality (VR) headsets are having a hard time gaining traction, with only 8 % of US. broadband households owning one, according to new VR adoption research from Parks Associates.
The research also showed that one-quarter of U.S. broadband households are familiar with VR headsets. Of these households, more than half (54%) use their headset or would use it for gaming.
Major challenges for VR providers are content quality and availability. More than half (55%) of VR headset owners said content for their devices has remained the same since they bought their headsets, while a small amount (3% believe) it has gotten worse. Content developers are challenged by high costs, the demand for interactivity and limits on content length, according to Parks Associates.
Mobile headsets score even lower, because while they are capable of playing most non-gaming content they often cannot play premium games. So for gamers, PC-based and game console-based systems are the primary VR headset option, though standalone VR headsets are promoted as cost savers.
"Sixty-two percent of US broadband households play video games, and while gamers are a passionate market segment, they can be limited in scope, which has stalled the adoption of VR to a wider audience," said Billy Nayden, Parks Associates research analyst, in a prepared statement. "There has been some notable video content developed for VR, such as Alejandro G. Iñárritu's short video experience Carne y Arena, which won an Oscar, but overall lack of quality, non-gaming content is inhibiting broader adoption."
Nayden continued: "The aim of standalone VR headsets is to offer much of the same premium content as game console or PC-based headsets, without the need for additional hardware like a gaming console or high-powered PC. This technology drastically reduces the cost for consumers, while providing a more premium experience than smartphone-based systems."