TV Everywhere, broadcasters' response to the rise of over-the-top (OTT) video and mobile TV, will be available to 81% of US and Canadian pay-TV subscribers through their current service provider by mid-2011, according to a Parks Associates report entitled, "TV Everywhere: Growth, Solutions, and Strategies."
US TV service providers have been especially quick to launch multi-screen services, Parks notes, aiming to reduce churn and attract younger subscribers. Nearly 40% of US broadband subscribers ages 18-34 find TV Everywhere services attractive, according to Parks, while globally, service providers are likewise expanding multi-screen offerings as a result of competition from online video sources, new market entrants and a dramatic increase in online and mobile video viewing during the past three years.
"Service providers realize they need to be the consumer's primary source of video content on all platforms," said Brett Sappington, Parks Associates' senior analyst. "In North America and Western Europe in particular, TV Everywhere has moved rapidly from a handful of offerings to widespread availability. Today, operators from all sectors, telco, cable, and satellite, now offer online access to VOD or live TV, with several adding support for smartphones and tablets."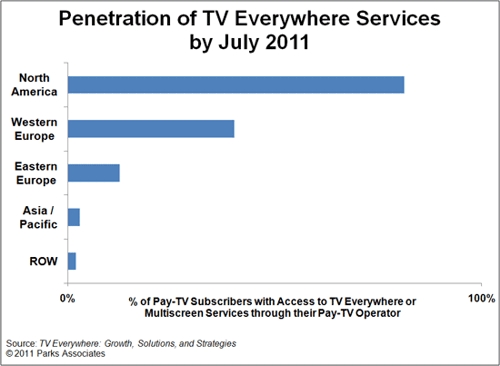 Most multi-screen services in the US are available at no extra cost to subscribers, Comcast being an early leader with the launch of Fancast Xfinity TV in December 2009, Parks' analysts note. Providers in Europe, such as Sky, Ziggo and Orange, got into the market as early as 2006, and growth momentum has picked up significantly over the past year.
Expansion of TV Everywhere services is spreading in Eastern Europe now, where they are now available to 12% of pay-TV subscribers through their current providers. South Korea and Japan "lag other developed nations due to the ability of mobile phones in those countries to receive TV signals via digital terrestrial broadcasts."