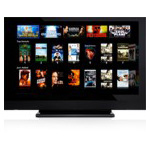 Watching online video and Smart TVs go together like bread and butter, or nearly so (at least for those who connect their Smart TV to the Internet), according to a report from Parks Associates. Nearly half of HDTVs shipped this year will have Internet connectivity, according to Parks, which found that 75% of Americans who own Smart TVs and connect them to the Internet, watch online videos on them. That's a 30% increase in just six months.
"The percentage of smart-TV owners connecting the device to the Internet has steadily increased, from approximately 40% in 2010 to 56% today," commented Parks research analyst Pietro Macchiarella. "This device, when connected, offers a toehold to a variety of players, including broadcasters, over-the-top video providers, and pay-TV providers."
In its "Smart TVs in a Pay-TV World" report, Parks analyzes "the implications of this increased penetration of smart TVs for manufacturers, content owners, and pay-TV providers. Key findings include:
75% of U.S. smart-TV owners who connect their set to the Internet watch on-demand online movies at least monthly, versus 57% in 2011
71% watch online TV shows at least monthly, versus 51% in 2011
On a near-daily basis, 30% watch movies and 32% watch TV shows
"Smart TVs have the potential to be both a threat and an opportunity for pay-TV providers," added Brett Sappington, director of research. "Smart TVs provide consumers another way to access over-the-top services like Netflix on the TV, providing a new distribution channel that all players can leverage to deliver content to consumers.
"However, by integrating the smart TV into their distribution model, pay-TV providers can leverage their strengths in content costs, customer relationships, bundling, and other areas to play a more substantial role in OTT. In addition, pay-TV providers can potentially use smart TVs to lower subscriber CPE costs, an important consideration in a highly competitive market."
More than 20% of U.S. households–some 27 million– either have an Internet-enabled TV, game console, Blu-ray player and/or smart set-top box connected to their home network, according to an April ABI Research report.
Updated July 18