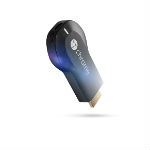 Smart watches and connected consumer electronics (CE) entertainment devices, such as game consoles and streaming media devices, will be this holiday season's most popular electronic gifts, according to new market research from Parks Associates.
Surveying purchases of connected CE devices this year, Parks found that 37 percent of smart watches, 25 percent of streaming media players – such as Roku 3 and Google's Chromecast – and 20 percent of game consoles were gifts. Tablets and e-readers, motion controllers, DVRs, MP3 players and other Internet-enabled music systems were also popular gift items.
"Apple boosted the profile of the wearable category with the announcement of its Apple Watch," Parks' director, health and mobile product research Harry Wang was quoted in a press release. "We expect sales of wearables, including connected activity trackers and smart watches, to top 11 million units by end of year in the U.S., thanks to this increased attention, and they will continue to be a popular gift purchase, especially on Black Friday, due to many promotions from retailers and OEMs and their uniqueness as a new-year gift to promote better health."
Popular Electronic Gifts
Very affordable, streaming media players typically sell very well during the holiday shopping season, Parks notes. According to the market research company, streaming media sticks will make up a larger percentage of streaming media device sales this year as compared to last.
"In 2013, 46% of Google Chromecasts and 37% of streaming media players, such as the Roku 3 and Apple TV, were purchased as gifts," Parks' director of research Barbara Kraus commented. "The two new streaming sticks this year—the Roku HDMI Streaming Stick and the Amazon Fire TV Stick—have similar functionality as the regular streaming players at a much lower price point. However, the Amazon Fire TV Stick will not be available until mid-January, which leaves the field open for Google and Roku."
Minus a headset jack and gaming controllers, "the Roku stick has essentially the same features and functionality as the Roku 3." That's important to consumers, who base their purchase of streaming media devices largely on features over price, Parks says.
"Success of streaming media devices, both sticks and players, hinges in large part on younger consumers' preference for online VOD," added Parks' research analyst Glenn Hower.
"Over 70% of video consumption still occurs on the television. The experience of watching on the big screen is still a key part of the video-viewing event, and purchasing a streaming device is simply an easier process than the research and price comparison involved with flat-panel TV purchases."