An attractive business development opportunity exists for broadband services providers, along with CE products manufacturers and technology brand owners, to provide IT services to small- and medium-size businesses (1-250 employees), according to Parks Associates.
U.S. SMBs spend only $90-$150 a month on IT services, including server maintenance, virus protection and back-up data storage, even though they are heavily, even critically, reliant on them, Parks stated in a press release.
"SMBs rely heavily on computing devices, but their spending on IT services, such as network security, cloud storage and IT support, has not matched this growing dependence," Parks research analyst Patrice Samuels was quoted as saying.
Samuels went on to add that expanding the range and extent of IT services used by U.S. SMBs is an attractive market opportunity for a variety of IT industry participants.
SMB IT Spending
"Broadband providers, CE makers, and other technology brands have the opportunity to extend their existing relationships with SMBs by incorporating IT services into current service bundles,¨ Samuels elaborated. ¨Their first, critical step is to raise awareness among SMBs of various IT services as familiarity is a key driver of adoption.
Samuels continued by highlighting the fact that ¨SMB decision-makers who are familiar with the benefits of an IT service are more than nine times more likely to subscribe than decision makers who are unfamiliar with the service."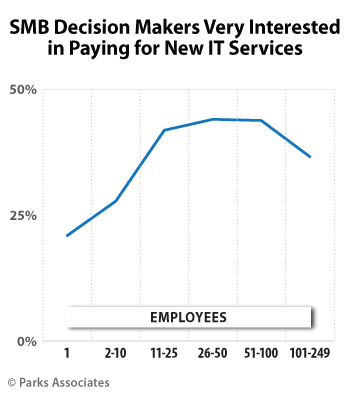 Parks has found that 25 percent of U.S. SMBs have little or no familiarity with the technology, offerings or benefits of many IT services. As a result, IT services providers have to create programs that offer their SMB customers incentives to share information regarding their experiences with IT services.
"SMBs have limited IT budgets, which makes many apprehensive about adopting new technical products and services," Samuels said. "Sellers of IT services and solutions must not only be adept at communicating the value and benefits of their services and solutions, but they must also be able to tie these benefits to cost savings and revenue generation for small business customers."