Over-the-top (OTT) video service subscription revenues will continue to exhibit strong growth, rising from nearly $9 billion in 2014 to more than $19 billion in 2019, according to new market research from Parks Associates. Nearly 6 in 10 (57 percent) of U.S. broadband households subscribe to an OTT video service, Parks highlights in a press release.
"The OTT video services marketplace continues its rapid rate of change, impacting the video ecosystem across world markets," Parks' research director Brett Sappington commented. "While operator attempts at TV Everywhere have made little impact, OTT video services are experiencing a boom."
U.S. Households Choose OTT over Pay-TV
Parks' "TV Everywhere and the New World of OTT" reveals that approximately seven percent of all U.S. households – 8.4 million – subscribe to a broadband service and at least one OTT video service but do not subscribe to a pay-TV service. This includes those who have cancelled pay-TV subscriptions as well as those who have never subscribed to a pay-TV service. The corresponding percentage across all other Western countries is around four percent or less.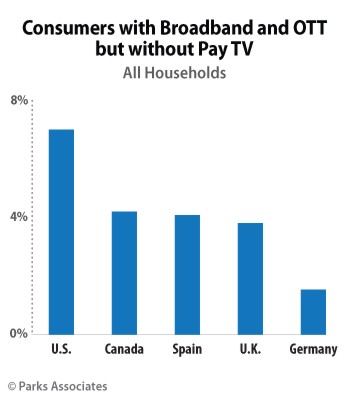 In addition, a variety of new players are entering the market, Sappington pointed out. These include DISH Networks, Rogers Communication, Bell Canada, and Sky, which are launching their own OTT video services. "How the industry responds to this change will ultimately affect the fundamental structure of the video industry for years to come," Sappington said.
"Avid video consumers are still taking pay-TV services if they can afford them. However, companies in the video ecosystem are eager to reach those consumers who are currently falling through the pay-TV cracks."