OTT viewing is increasingly taking place in the living room, with more than half (52%) of U.S. broadband households now watching online video on an internet-connected television, according to a new report from Parks Associates.
Additionally, more than half (55%) of U.S. broadband households indicated that among their top favorite leisure activities is watching movies or television at home.
Among other findings from the Parks Associates research:
Nearly one-in-five (19%) of consumers subscribe to Amazon Prime Video, Hulu or Netflix, as well as another OTT service, up from to 13% in 2017.
Video viewing has dropped, with consumers viewing 25.7 hours of video per week in 2018, down from 29.5 hours per week in 2016.
Consumers prefer local broadcast/channels and programs over other types of programming.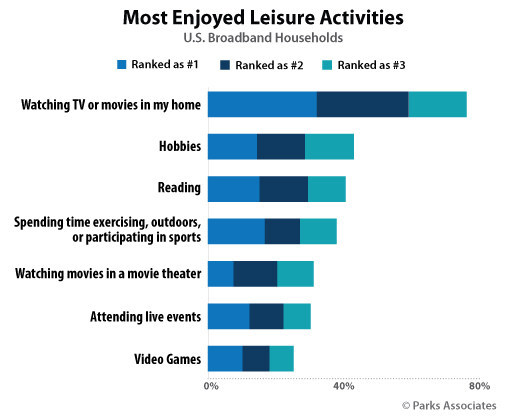 "While the total number of hours consuming videos has declined, consumers are watching more internet video on the largest screen available," said Parks Associates research analyst Billy Nayden, in a prepared statement. "The number of hours consumers report watching video on a TV increased for the first time since 2014, with connected devices enabling internet video services on TV and shifting consumers away from PC and mobile viewing. As OTT competition becomes a battle for the living room, the challenge for device makers and content producers is finding the correct product mix to maximize both profit and utility."
Nayden added: "As consumers' taste for OTT experimentation wanes, they will start to resist the push to add another monthly subscription to their households. Many providers are starting to lead with freemium and ad-based models, in anticipation of this pushback."
Image courtesy of flickr user D.Reichardt.