Roughly 1 in 5 U.S. broadband households (19%) have canceled an OTT video service in the past 12 months, according to new market research from Parks Associates. The rate of OTT video customer churn has remained stable overall during the past year, even as market leaders Netflix, Amazon and Hulu all have reduced their rates of customer churn, Parks highlights.
Parks culled the market data from its latest OTT Video Market Tracker service.
"These are not free trials, but instances where consumers are spending real money to try out new OTT services," Senior Research Director Brett Sappington pointed out.
OTT Video Churn
"One-third of households that currently subscribe to an OTT video service have canceled one or more services in the past year, which shows that there is quite a bit of experimentation occurring right now," Sappington added.
Parks found that OTT video customer churn was lowest among the three largest providers – Netflix, Amazon and Hulu. The three are in a heated race to add and retain subscribers and they're upping the ante by adding new content, services and types of subscriptions, or matching those introduced first by their leading competitors.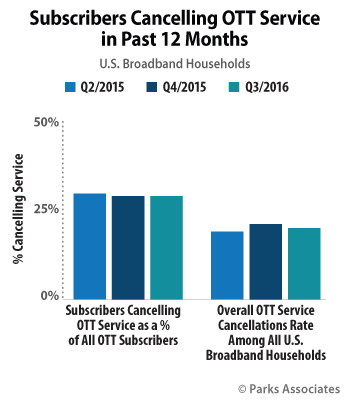 Hulu, for example, recently announced it would offer users the ability to download videos and watch them offline, such as while flying, Parks points out. Amazon was the first to introduce offline OTT video downloading and viewing, doing so in July 2016. Netflix soon followed, introducing the new feature last November.
"These services have worked to establish core customer bases, and the inertia of these core groups provides an important baseline of ongoing revenues," Sappington said. "They continue to refine or add to their offerings so that subscribers will continue to see new value in the service, providing ongoing reasons to remain a subscriber."
In addition, it's worth noting that incumbent cable, satellite and telco pay-TV providers are gradually moving more towards using OTT platforms to deliver programming and content, a trend illustrated by Comcast announcing it will fold DISH's Sling OTT video service into X1.
Digging further into Parks' latest market data, broadband households have been spending more per month on OTT video services in recent years. Spending on OTT video services rose from an average $3.71 per month in 2012 to $7.95 per month in 2016, according to Parks.
In contrast, the amount broadband households spent to purchase and rent physical media (DVDs, etc.) dropped from an average $15 monthly to $8 per month over the five-year period.
"On average, spending on subscription OTT video services now accounts for 85% of all household spending on Internet video," Parks Senior Analyst Glenn Hower commented. "The key to success in the long term will be retention.
"Consumers are experimenting with different OTT services, and many providers incorporate no-contract, cancel-anytime models to remove barriers to entry and to entice consumers to try new services free of obligations."