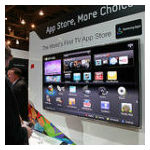 New research from Parks Associates shows that the majority of Internet households watch OTT video on TV.
This is a significant revelation in the evolution of entertainment video. "Today, more televisions are connected to the Internet than ever, either directly or through connected devices like game consoles or streaming media players, such as Roku or Apple TV," said Brett Sappington, the Senior Director of Research for Parks Associates, in a press release. "The fact that one-half of broadband households watch Internet video on a television shows that we are well past a tipping point. The market has fundamentally changed."
The firm also found that 88 percent of computer-based viewing is from non-linear sources and that 72 percent of non-pay TV viewers subscribe to an over-the-top service that is their primary source of content. Finally, a shade under half – 49 percent – of broadband households subscribe to Netflix. That service is by far the largest, the press release says.
Sappington said that the traditional sources of programming are seeing a decline in viewership for live, linear channels and an increase in on-demand viewing. He wrote that more than 60 percent of households subscribe to one or more OTT services, with one third subscribing to at least two.
Why watch OTT Video on TV?
If the Parks research accurately reflects reality, it is a significant milestone in the history of television. When OTT became a common approach several years ago, there were several factors that skeptics suggested could keep it marginalized. These included the difficulty of finding an audience, the possibility of being second class citizens on broadband networks and the awkwardness of watching programming on devices, such as PCs and laptops, for which it was not intended.
A lot has changed quickly. A generation has grown up that is as comfortable watching content on tablets, laptops and smartphones as on televisions. This means mobile carriers and service providers have won a permanent seat at the entertainment table. If Internet-based video now is feeding televisions in more than half of broadband households, traditional cable MSO, DBS, and IPTV models are even more deeply impacted.
Cable and telcos own too much infrastructure to ever be out of the game, of course. The OTT players rely on them. However, if the older demographic (that watches traditional televisions in dens and bedrooms) is moving to OTT services such as Netflix, the danger to the established providers — whose business plan includes content as well as access — becomes even more real. Indeed, the press release notes that traditional providers have launched OTT services in anticipation of the shift.