Pricing is the key to a significant growth for the smart home device market, according to a report from Parks Associates. The firm says that 42% of U.S. broadband households do not own or plan to buy a smart home device — but that 17% of those likely would buy one if prices were lower.
The firm says that "[c]apturing these consumers at the right price point" would put smart home devices in 7.9 million more households.
"Price is a major barrier to smart home adoption, especially among younger heads of household, who recognize the value but feel priced out of the market," Parks Associates Senior Analyst Patrice Samuels said in a press release. "Reducing price while still offering important features is a valuable strategy, with WYZE and Yi Home taking this route. Nest, eufy, and Blink have all released lower-priced versions of their products that include fewer features at a more affordable price."
The category is broad, which offers opportunities. For instance, Parks Associates found in its fourth-quarter 2020 survey that two ways to increase smart device purchases are discounting and bundling products.
Other incentives that could convince non-users to purchase smart devices are cybersecurity certification by an independent test lab; free 24/7 technical support for the first year of ownership; setup and configuration services and a five-year manufacturer's support warranty.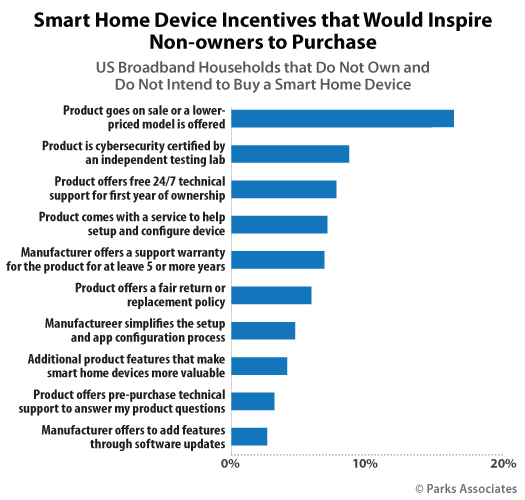 The report – "Breaking Smart Home Barriers: Why Consumers Don't Buy" — found that more than half of U.S. broadband households do not see any benefits to ownership of smart home devices.