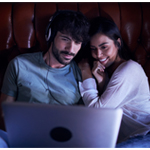 The number of households with multiple OTT video subscriptions has more than doubled since 2014, according to new research from Parks Associates. Researchers cited a 130% increase over that time.
The research firm credits partnerships, aggregation, and bundling in video services as key strategies for OTT video subscriber growth.
Today, an estimated 46% of U.S. households subscribe to multiple OTT video services, compared to only 20% five years ago and 33% three years ago, the Parks Associates research found.
"The number of OTT services available in the US increased by 140% in five years, giving consumers an unprecedented number of options to meet their video needs," said Parks Associates senior analyst Steve Nason, in a prepared statement. "Most OTT households are anchored by one of the three major OTT services—Netflix, Hulu, or Amazon Prime Video—but consumers are finding they can't fulfill all their interests through a single service. Many small and medium-sized services are building their brand and subscriber base by filling in these gaps in content."
According to the research firm, intense competition, the move of content providers to launch direct-to-consumer offerings, the lack of differentiation among OTT services, as well as the existing infrastructure and consumer relationships among larger players are shaping partnerships in the video services industry.
Parks Associates added that consumers are still largely unaware of specific services, making it difficult for smaller providers to compete with the larger competitors that offer a vast array of services.
"Netflix can afford to license high-value content like Seinfeld to supplement its original content, and Apple can buy commercial space during the Emmys and NFL games to promote its upcoming Apple TV+ service and its array of content and stars," Nason said. "By contrast, smaller OTT services are having to harness the power of a partnership with an aggregator, bundling or content partner or marketing and promotion partner to boost awareness of their brand and offerings."