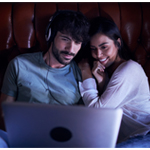 Online video consumption is up and pay-TV take rates are down in new research from Parks Associates. The research – entitled "Set-top Box Innovations and Trends" — found that weekly online video viewing has climbed to seven hours for U.S. broadband households– up from 3.6 hours in 2017.
Pay-TV service adoption has declined from 75% in the first quarter of 2017 to 62% in the first quarter of this year, researchers said. These two statistics indicate a fundamental and likely permanent shift in the way in which consumers access content.
For instance, Parks says that 74% of U.S. broadband households subscribe to one or more streaming services and almost half subscribe to at least two. MSOs – in addition to launching their own streaming devices – are creating offerings similar to virtual multichannel video programming distributors in hopes of signing those who have never had pay-TV (cord-nevers) or re-signing those who had service and canceled it (cord cutters).
This newly fragmented landscape means that the established players must change with the times. "The set-top box does have a role in this market, but it will have to adapt," Parks Associates' Contributing Analyst Dr. Kenneth Wacks said in a press release about the weekly online video viewing research. "For one, it can serve as the device to aggregate the variety of different services coming into the households and present them in a personalized and attractive UI for an improved consumer experience. They can also integrate other use cases and innovations, such as voice control and smart home controls, to expand the set-top's role in the home."
Last month, Parks released research that dovetails with today's data. The firm found standalone broadband penetration in US broadband households – which is defined as broadband not sold in a bundle with pay-TV– increased from 34% in 2017 to 42% in the first quarter of this year.