About 7.7 million all-in-one networked/IP cameras will be sold in the United States this year, according to a home security camera sales forecast from Parks Associates. The cameras will generate revenues of $889 million.
"IP cameras are key security-related devices and provide peace of mind to consumers. As such, these devices are consistently among the most popular smart home devices," Parks Associates' Research Analyst Dina Abdelrazik said in a press release. "Currently 9% of U.S. broadband households own one, but advances in image recognition and ease of self-installation, combined with a strong user experience, are driving increased adoption, with retail channels (online and in-store) starting to dominate sales."
Home Security Camera Sales
Parks found that the bulk of the sales will be DIY devices as vendors are improving the customer experience for installation, setup and usage. Seven of ten consumers planning to buy a networked/IP camera consider insurance or security company recommendations to be important or very important. The strongest target subgroups are pet owners and new parents.
Eighty percent of consumers who own or plan to buy a device consider image or sound recognition and their ability to identify glass breaking, a person falling and other security and safety events to be appealing or very appealing.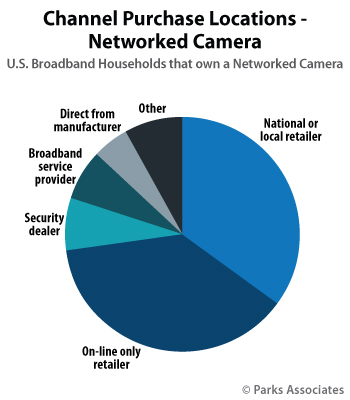 Smart homes in general and camera surveillance specifically are growing as technology evolves. In April, Strategy Analytics said that the smart home surveillance cameras market will pass the $9.7 billion mark by 2023. The key driver will be cameras with full software and service features that cost less than $200. Dominant security service providers will be ADT, Alarm.com and Vivant. Key vendors will be Amazon, Netgear and Nest.
Last month, Yale Locks & Hardware said that smart locks from its Assure Lock line can be connected to Comcast's Xfinity Home service. When purchased with a Yale Zigbee Network Module, the platform offers full home security and automation.
Image courtesy of flickr user Aaron Yoo.