Smartwatches are increasingly popular while tablets may have peaked, according to research from Parks Associates. The "360 View: Mobility & The App Economy" report found that smartwatch adoption reached 14% among U.S. broadband households in the second quarter and that smartwatch adoption has been steady since 2016. The tablet category, however, may have reached its high water mark during the first quarter of last year with a penetration rate of 72%.
"Although smartwatches have not become mainstream yet, purchase interest is on the rise," Kristen Hanich, a Research Analyst for Parks Associates, said in a press release. "The proportion of consumers very likely to purchase one of these devices jumped from 3% in Q1 2016 to 9% in Q2 2017. New smartwatch models from Apple and Fitbit will drive increases in consumer demand. At the same time, operators are migrating their networks to 5G architecture to provide more low-power cellular connectivity options to device OEMs, which will help consumers find new use cases for these devices."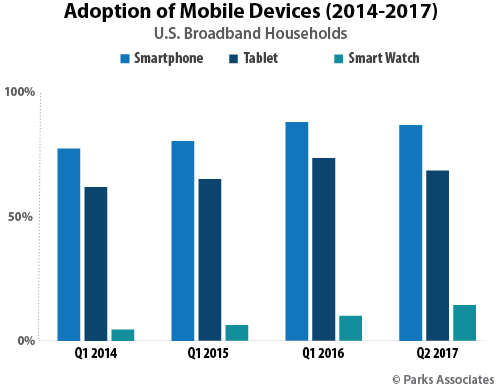 Additional data from the research shows:
Tablet adoption declined to 67% in Q2 2017, down from 72% in Q1 2016.
In 2016, 12% of the U.S. population owned a smartphone but did not have fixed home broadband.
While 40% of consumers show interest in connected cars, only 2% of families with a shared data plan report having a connected vehicle on their plan.
Loyalty programs and value-added services have an extremely positive effect on net promoter scores (NPS) for operator brands, potentially raising NPS by 15-30 points.
Parks Associates is not the only analyst firm that sees a bright present and future for smartwatches. In August, IDC said that smartwatch shipments grew 60.9 percent during the second quarter compared to the first.
Also in August, the NPD Group provided a data point showing good news for smartwatches in another way. As of June, almost 9% of consumers in the U.S. more than 18 years old owned a smartwatch. That was an increase of almost 1.5 percentage points over a half year earlier. The 15% mark will be hit by 2019, NPD predicts.
Image courtesy of flickr user Chris F.