New high quality services filling new content niches and the COVID-19 pandemic are driving an increase in the percentage of U.S. homes with two video streaming subscriptions or more, according to Parks Associates.
"The Next 'Big 3' in OTT" found that the portion households subscribing to two or more OTT services jumped from 48% during the third quarter of 2019 to 61% during the third quarter of this year. The portion of those with three or more services rose from 27% to 45% and four or more from 14% to 31%, according to the firm's " research.
The big three — Netflix, Amazon Prime Video and Hulu – are now being challenged. Last November, Disney+ and Apple TV+ launched. In late May, HBO Max debuted, followed in mid-July by Peacock, a hybrid ad-based and SVOD service. Finally, ViacomCBS is expanding CBS All Access – which it says is highly successful and will expand and become Paramount+ early next year.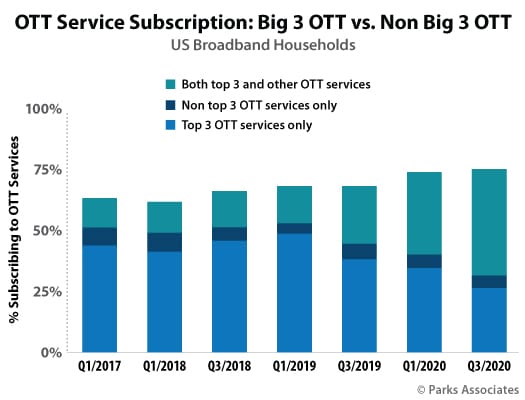 "The term 'streaming wars' has been used for the past several years to describe the battle between high-profile SVOD services to capture revenue and viewership among U.S. video consumers," Steve Nason, Research Director, Parks Associates, said in a press release about customers with two video streaming subscriptions or more.
"So far the main battle has been among the Big 3: Netflix, Amazon Prime Video, and Hulu, with other services primarily acting as complements. Now other services from major players are vying to become a core video service in U.S. households, which represents the first real threat to the hierarchy established by the Big 3."
Parks notes that the nation's economic struggles could decrease discretionary spending, but so far that has not impeded the willingness to subscribe to multiple services. Though the report mentions the COVID-19 pandemic as a factor in the jump in multiple subscribing households, it focuses mostly on the emergence of high quality competitors that fill "content gaps" beyond the top three providers. It will be interesting to see what happens to usage as vaccines are distributed and the economy continues to struggle.
In a report released in March, Parks said that 76% of broadband household respondents to its survey subscribe to an OTT service. At that point, Nason pointed to the shuttering of theaters, the increase in entertainment viewing, and the release of content that was complete before the pandemic hit as drivers.