U.S. broadband household viewing of Facebook video and similar "alternative content" has reached two hours weekly on average, according to Parks Associates. Alternative content includes live streaming, user-generated content, short-form videos and Web video series, according to Parks' definition. Other alternative content sources include  SnapChat, YouTube, Vimeo and Daily Motion.
"Alternative video is an important part of the video landscape, and it competes with other video options for a share of consumer attention," Brett Sappington, Parks' Senior Director of Research, said in a press release. "Approximately one-half of households with a TV watch video from YouTube and similar sites on their TV set. In fact, more households watch online video from an app such as YouTube than watch video from a TV channel app."
Broadband Household Viewing of Facebook Video and the Like
The report, "360 Deep Dive: Alternative Content Consumption," found that adoption of pay TV declines as the frequency of user-generated consumption increases. This, the press release points out, is a future threat to pay-TV producers. This long-term threat is especially concerning because younger respondents are more likely to watch user-generated content than their older peers.
Other results from the research:
At present, only 7% of U.S. broadband households watch sporting events via live stream.
Consumers who view user-generated content are much more likely than those who never watch it to have an OTT service.
Almost one-quarter of broadband households have posted videos to some type of content site or app within the last 30 days.
Alternative content compromises more than two hours of online video watched weekly on a computer.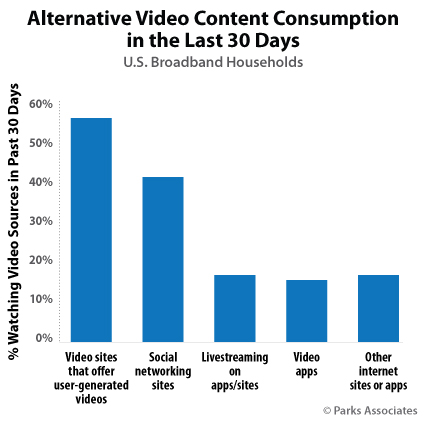 It's not all bad news for established content providers. Kagan, a media research group within S&P Global Market Intelligence, late last year reported that social media can help established video networks and their advertisers. Content from these established providers can be promoted on Twitter, Google's YouTube TV, Snapchat, Periscope and elsewhere, the report says.
Image courtesy of flickr user Kirill Kniazev.