The number of U.S. broadband homes with security systems ticked upward – from 26% to 28% — as of the end of the fourth quarter of 2018 compared to the same period in 2017, according to Parks Associates.
The firm found that slightly more than half — 52% — of households likely to purchase a system during the next year will buy one that is self-installed. "Professional installation continues to be the dominant choice for home security systems, but self-installation continues to experience growth," Parks Associates' Senior Analyst Dina Abdelrazik said in a press release. "Self-install security systems have made a mark. Self-installed security solutions have the potential to significantly lower the cost of security and, in doing so, expand the market beyond that which is currently serviced by the professionally monitored security industry."
The report—"Consumer Trends & Disruption in Home Security – found that purchase intentions did not change dramatically between 2017 and 2018. In the latter year, 15% of broadband households said they intended to acquire a security system, with 8% reporting "high intentions." The firm identified four monitoring options. In descending order of popularity, they are self-monitoring from phones, ad-hoc professional monitoring, 24/7 professional monitoring and local alarms only.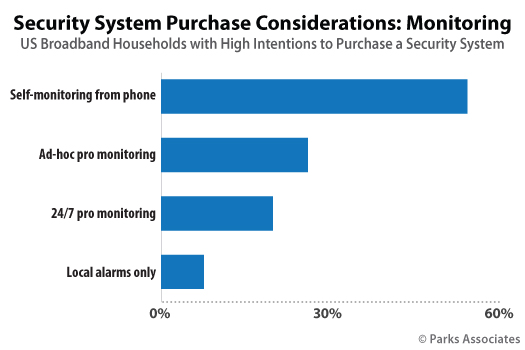 About one-third of security system owners report having a camera, and about 25% report having a video doorbell or smart door lock.
Abdelrazik said that the ecosystem's goal of using smart home deployments to help security systems to pass 50% penetration of U.S. households will not be realized soon. The strategy now is to sell "adjacent devices" such as networked cameras and video doorbells. She suggests that more drivers, such as energy savings and convenience, are needed. Self-installation is helping the category, she said.
Last fall, J.D. Power found that smart home integration boosted home security satisfaction from 831 to 834 out of 1,000 points in The J.D. Power 2018 Home Security Satisfaction Study.