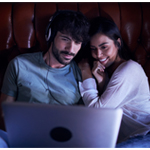 A large study of U.S. broadband households by Parks Associates found that the COVID-19 pandemic has given something of a boost to the OTT video sector. The firm surveyed 10,000 broadband households in March and found that 76% subscribe to an OTT video service. Still, the fluid situation caused by the virus suggests that the road ahead remains unpredictable.
In a press release, Parks Associates' research director Steve Nason offered context that pointed to the uncertain road forward. Movie theatres have been closed and related productions shut down. At the same time, entertainment viewing has increased. The reaction is to accelerate new releases – presumably of material that already was "in the can" when the virus hit – and conduct more extensive free trials. That has driven a rise in new subscribers and a slight decline in churn since last year.
What clearly remains to be seen is if these strategies will lead to sustainable growth or just represent an adjustment to changing viewing patterns. The unpredictable future may feature both a proven tool – free trials – and innovative approaches to get U.S. households to subscribe to OTT video."
Of the 41% of households that trialed at least one OTT service, the majority (69%) adopted at least one paid subscription," Nason said in the press release about U.S. households that subscribe to OTT video. New trial offers can be successful in attracting new users, but as competition increases and household budgets shrink, providers will need to explore new service models, such as making a portion of content free or offering discounts to longer-commitment subscriptions."
Nearly two thirds (62%) of U.S. broadband households subscribe to a traditional pay TV service, according to Parks. The OTT video churn rate is 41%, Parks said.
In late April, Parks Associates and streaming guide provider Reelgood found that video streaming had grown significantly during the early part of the pandemic. About 6 million homes added video streaming services between the first quarters of 2019 and 2020.