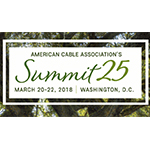 FCC Chairman Ajit Pai today urged small cable companies to bid for funding in the upcoming Connect America Fund (CAF) auction, scheduled to start in July. The CAF II Auction will award as much as $2 billion over 10 years to cover some of the costs of deploying broadband to unserved or underserved rural areas.
"Closing the digital divide is the FCC's top policy priority," said Pai in an address at the American Cable Association Summit in Washington, D.C. today. "And small broadband providers are critical to getting that job done."
Pai's comments came just one day after the FCC said it had begun accepting applications for participation in the CAF auction, which will award broadband funding to the provider that offers to deploy service at the lowest support level.
Small Cable CAF Auction Bids?
ACA members are primarily small, rural cable companies. Traditionally these companies have not received funding through government-run programs to help with deployment costs, as Pai noted in his address.
Without any subsidies, ACA members already have built out networks that reach 840,000 homes in areas that the FCC has identified as the most expensive to serve, he said. He also noted that nearly half of the 18 million households served by ACA members are in small towns or rural areas.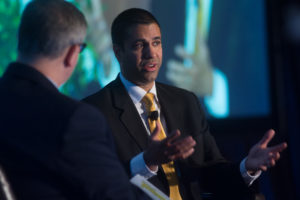 Pai's thinking, apparently, is that if ACA members have achieved all that without subsidies, imagine what they could do if some of their costs were covered through the CAF program.
"I strongly encourage you to explore this opportunity and consider participating," said Pai, echoing comments he made when CAF auction rules were established earlier this year.
It's worth noting, though, that small cable compaines were not heavily represented in the Rural Broadband Experiments that the FCC conducted in 2014. That program, which had a $100 million budget, was intended to test the concept of awarding broadband funding based on a reverse auction. Funding went largely to rural telecom companies, wireless internet service providers and rural electric providers.
Rural telcos and utilities are accustomed to dealing with government programs so it's not surprising that they participated so heavily and I would expect them also to be well represented in the CAF auction. But I sometimes get the sense that small rural cable companies would rather not bother with the red tape associated with government-run programs – or perhaps they have become a bit cynical because they believe those programs favor other types of companies.
The ACA has advocated for members with regard to CAF auction plans, however, suggesting more than a superficial interest in auction opportunities.
Will small cable companies pursue those opportunities?
We should know soon. The application deadline is March 30, which means that any interested parties, including small cable companies and others, will need to act quickly.