FCC Chairman Ajit Pai addressed the NTCA-The Rural Broadband Association membership today in New Orleans, offering wide-ranging views of important rural broadband policy matters. His remarks included reference to a 5G future that is very much about wires and not just wireless.
Pai received a warm welcome from the crowd of rural broadband providers, most of whom are traditional rural telcos who now provide both wired and wireless broadband in high-cost rural areas. Much of that warm welcome derived from a recently adopted FCC order on universal service that the chairman says brings "certainty and sufficiency" to the program which helps fund rural broadband networks.
Pai was interviewed by NTCA CEO Shirley Bloomfield, who encouraged the audience multiple times to thank Pai for pushing these reforms through.
5G Future
The interview also touched on 5G, where Pai suggested that a promising future for rural markets awaits. Bloomfield pressed Pai on the importance of wired networks, particularly fiber-based, to the future of 5G. Pai agreed and even took it a step further.
"I've consistently said that the 5G future isn't necessarily a wireless one, it's actually a wired one," Pai said. "Part of our 5G fast plan, as I've called it at the FCC, that's facilitating America's superiority [for] 5G technology, involves modernizing our regulations to encourage much more fiber deployment."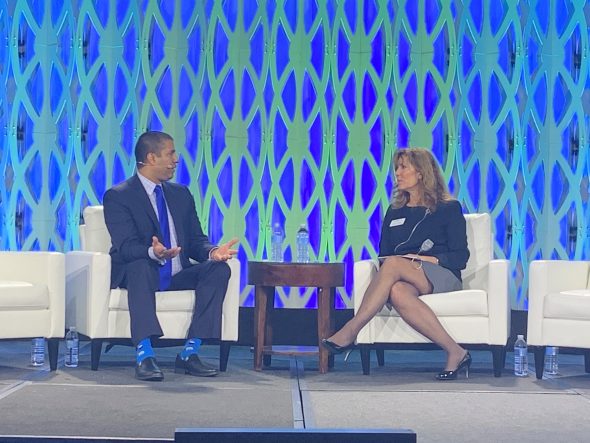 Bucking some conventional wisdom regarding the promise of 5G for rural markets, Pai says he actually sees a promising future there, with one catch though. That promise is largely a fixed 5G promise in Pai's view, which can help complement carriers who can't make a business case for fiber everywhere.
"Contrary to what some people have suggested, I actually think 5G has a very promising future in rural America and part of the reason is, in terms of the possibilities of fixed wireless, given the fiber penetration that some of your members have," he said. "I think the ability of rural telecom carriers to think broadly about the future of these networks and how to extend this great fiber penetration you've got, there's a huge amount of promise there."
Pai also discussed spectrum management, where he pointed to the FCC's efforts to make spectrum auctions more accommodating to smaller carriers by reducing the geographic size of spectrum licenses, and thus making spectrum more affordable. He pointed to the upcoming 3.5 GHz auction as an example and told the crowd to stay tuned.
"Stay tuned, there's a lot of spectrum work yet to be done this year and next, and our hope is more of you will be able to participate," he said.