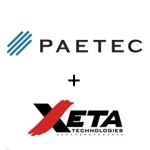 PAETEC announced its latest acquisition today, acquiring XETA for $61 million or $5.50 per share. Oklahoma based XETA is an enterprise systems integrator, providing voice and data solutions to business customers.
"This transaction highlights our strategy to increase our capabilities to service enterprise CIOs beyond traditional telecom products with advanced managed services and cloud computing solutions," said Arunas A. Chesonis, chairman and CEO of PAETEC. "PAETEC and XETA have a consistent national footprint and customer base while offering complementary services. As a result of this transaction and combined portfolios, both companies will have far stronger value propositions for our customers."
The move contributes to PAETEC's ongoing acquisition strategy which recently included Cavalier Telephone. Consolidation in the CLEC industry, especially among enterprise and wholesale focused providers, has significant momentum. While XETA is not a network service provider, they will help PAETEC beef up their enterprise offerings.
XETA currently operates out of 32 locations and installs and services enterprise communications equipment from a variety of suppliers including Avaya/Nortel, Mitel, Hitachi, Samsung, HP, Polycom, Microsoft, Alcatel-Lucent, ShoreTel, LifeSize and Juniper. They had $85.7 million in revenue in fiscal 2010.
PAETEC reports the terms of the agreement will place XETA Technologies, Inc. as an indirect wholly-owned subsidiary of PAETEC Holding Corp. The transaction only requires approval from XETA shareholders and PAETEC expects the deal to close within three months. Both company's boards of directors have already approved the deal.