App-based video calling services are changing the way in which consumers communicate in much the same way as streaming OTT video services has changed the way in which people consume TV, according to a new survey from Ovum.
The research firm found that the popularity of video calling has surpassed that of IP voice calling, and the difference between the two is becoming greater.
According to Ovum's Digital Consumer Insights survey, nearly half (47%) of U.S. consumers use video-based calling, compared to only 32% who use IP voice-based calling. Last year, those figures were 27% and 22%, respectively.
Video calls will continue to get longer and will continue to be app-driven, according to Ovum. These calls will not only continue to accelerate in popularity for short and long calls alike, but will also continue to cannibalize telcos' traditional voice traffic and revenues, according to Ovum, The biggest danger for telecom companies here is that voice calls could become a relic, meaning that telecom companies will continue to become less important in the communications ecosystem.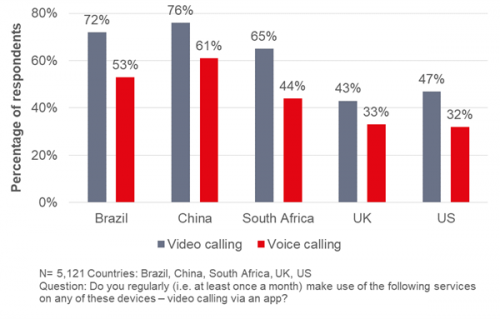 The rise of video calls means not only less revenue for traditional telecom companies, it also signals that new types of telecom services will be primarily the domain of newer companies, with more traditional telco companies falling behind. Ovum suggests telcos have missed an opportunity by not developing their own network-based video calling service.
However, Ovum points out that it still expects telcos to continue to be viable in providing voice and SMS services. The latter, according to Ovum, provides a common communication layer that helps to bridge the gaps – providing a common communications layer –  between fragmented messaging platforms.
Traditional telecom companies also benefit from their contracts with customers, particularly for mobile broadband services, making the telcos the provider of network connectivity, helping to insulate them from loss of bundled services.