Americans aren't only ¨cutting the cord¨ on traditional pay-TV services; they're canceling fixed broadband and voice subscriptions as well, according to new market research from Ovum. The triple cord cutting threat looms large and clouds the outlook for incumbent service providers, researchers said.
AT&T and Windstream were among the U.S. telcos that experienced a decline in all three core services in 3Q. Frontier, CenturyLink and Consolidated Communications registered declines in two of three, Ovum highlights.
In contrast, Cincinnati Bell and CenturyLink posted increases in pay-TV subscribers in 3Q, but off of small bases. Recent drops in telco fixed broadband and pay-TV subscriber numbers add to losses in voice subscribers, which have been dropping for years, Ovum points out.
Cable companies have been faring better, generally speaking, although they have also been experiencing losses in their pay-TV subscriber bases. Charter, Comcast and Mediacom all posted increases in fixed broadband and fixed voice subscribers. Cablevision, however, qualifies as vulnerable to triple cord-cutting, having posted declines in pay-TV and fixed voice along with zero growth in fixed broadband.
The top U.S. cable companies added a net of about 775,000 broadband subscribers in 3Q 2016 while their telco counterparts lost about 150,000, about the same (145,000) they lost in 3Q 2015, according to Leichtman Research Group's (LRG) latest market data.
Triple Cord Cutting
At least two factors make it difficult to discern an accurate, comprehensive picture of all that's happening, Ovum notes: Growth of telco next-generation broadband and a shift to more efficient network architecture, such as AT&T's ongoing FTTP deployments and its shift from U-verse to DirecTV for pay-TV. In addition, some telcos have raised the bar on customer credit risk profiles and attributed subscriber declines to having done so.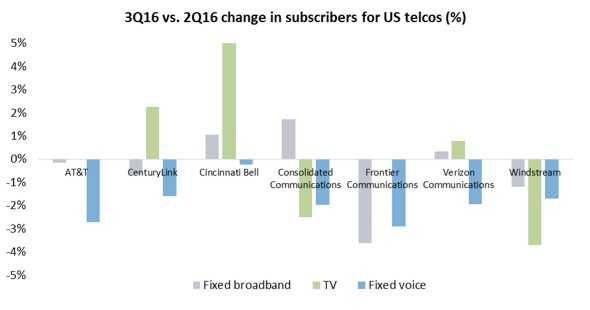 Telcos need to take decisive action to stem the triple cord-cutting threat, Ovum advises. More specifically, they would do well to chart paths to new services, bundled services and pricing strategies. One such option is launching OTT video services, either on their own or via partnerships.
Sometimes bundled with fixed broadband services offerings, OTT services may enhance telcos' ability to hold on to core fixed services subscribers while at the same time adding new revenue streams, according to Ovum. It's also important to factor mobile services – video, broadband and voice – into strategies and plans, the market research provider adds.
"Cord-cutting started in landlines and gave way to cord-cutting in pay TV in the US. We are now entering the realm of triple cord-cutting. This is the reason why U.S. service providers are diversifying their business away from their core services towards the path of becoming digital service providers. This is also the reason why M&A is likely to continue," Ovum senior analyst Kristin Paulin commented.
"The decline of subscribers in telco core services is by no means a US-only trend. Fixed voice subscribers are declining in multiple countries tracked by Ovum worldwide. Fixed broadband and pay-TV declines are also beginning to make an appearance." added senior analyst Kamalini Ganguly.
Image courtesy of flickr user Alyssa & Colin.