Power users consume six times more broadband data in comparison with average users, according to the latest OpenVault Broadband Insights (OVBI) report. Power users are defined as those who use 1 terabyte (TB) of data or more per month. Those users stream more than 2.2 TB of data per month, OVBI said.
Gaming is a key driver of power users' heavy data consumption, the OVBI Second Quarter 2023 report suggested.
Gaming consumption by power users was 498 GB per month. That was a whopping 2,271% higher than average users' 21 GB of gaming consumption. OVBI defines average users as those consuming between 400 and 600 GB per month.
Broadband Power Users
The report found that average users dedicate 20% of their consumption to social media. This compares to 9% by power users and 6% by light users. Light users – those consuming less than 100 GB per month – use 92% of their data for streaming and less than 1% for gaming.
"As subscribers flock to faster and faster speed tiers, there is increasing pressure on operator networks to deliver uninterrupted and unimpaired user experiences," OpenVault CEO and Founder Mark Trudeau said in a press release.
"With deeper visibility into the applications that subscribers are using, operators can proactively understand and strengthen the most vulnerable areas in their networks."
Other highlights from the report:
The monthly average data usage was 533.8 GB, up 8.8% year over year from 490.7 GB in the first quarter of 2022.
Year-over-year upstream data usage growth (14.8%) was greater than downstream data usage growth (8.4%) in the second quarter of this year.
The percentage of subscribers on gigabit speed tiers more than doubled over the previous year, reaching 31.6% during the second quarter.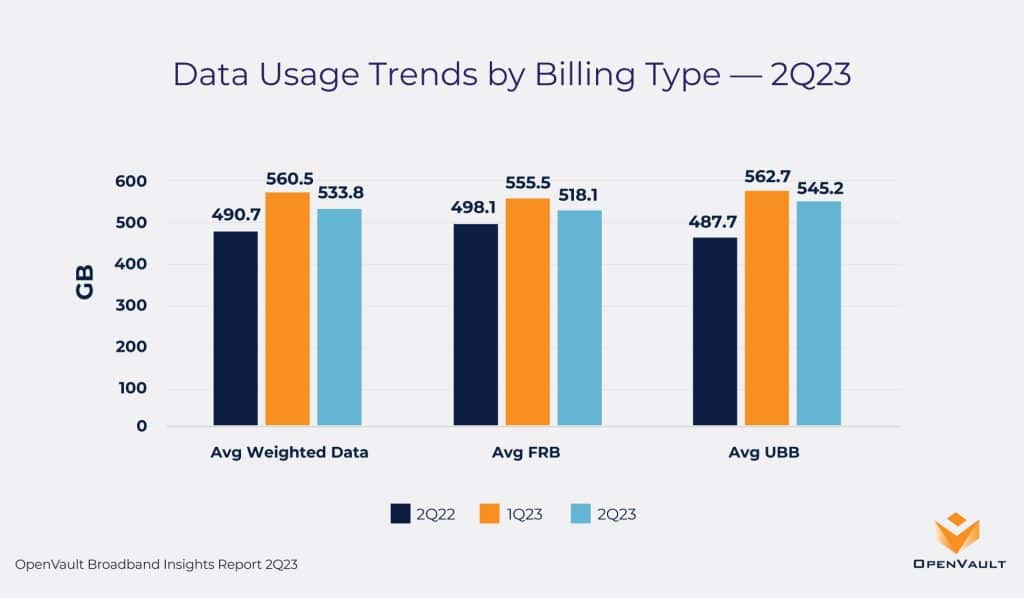 Last November, OVBI reported that there was a 35% increase in gigabit tier adoption – from 11.4% to 15% — between the third quarter of 2022 and the year-ago quarter. The firm also found that gigabit tier provisioning increased by more than 600% since the third quarter of 2019.