Nearly one-tenth (9.8%) of all broadband subscribers at the end of the first quarter were provisioned for 1 Gbps or more speeds, according to the latest OpenVault Broadband Insights (OVBI) report. Gigabit adoption has been accelerating according to OVBI data.
The OVBI reports the number of subscribers with gigabit plans was up 261% from the same period a year ago, and up 75% from the past two quarters. The latest OVBI also revealed that pre-pandemic seasonal trends of slower first quarter growth have returned in 1Q21, but at higher usage levels as a result of the pandemic.
OpenVault's latest findings showed that more than 80% of subscribers are receiving at least 100 Mbps speeds, with only a very few (5%) receiving 20 Mbps or less. Those with flat-rate billing (FRB) plans, or unlimited usage, are adopting the higher speeds at a slower rate than those with usage-based billing (UBB) plans.
"UBB operators are having more success at slowing the trajectory of bandwidth usage on their network than are FRB operators…despite UBB operators having a higher percentage of higher speed, higher ARPU subscribers," the report said. "This widening gap in 1Q21 of total bandwidth usage between UBB networks vs. FRB networks and the revenue and profitability implications that it may represent bear watching."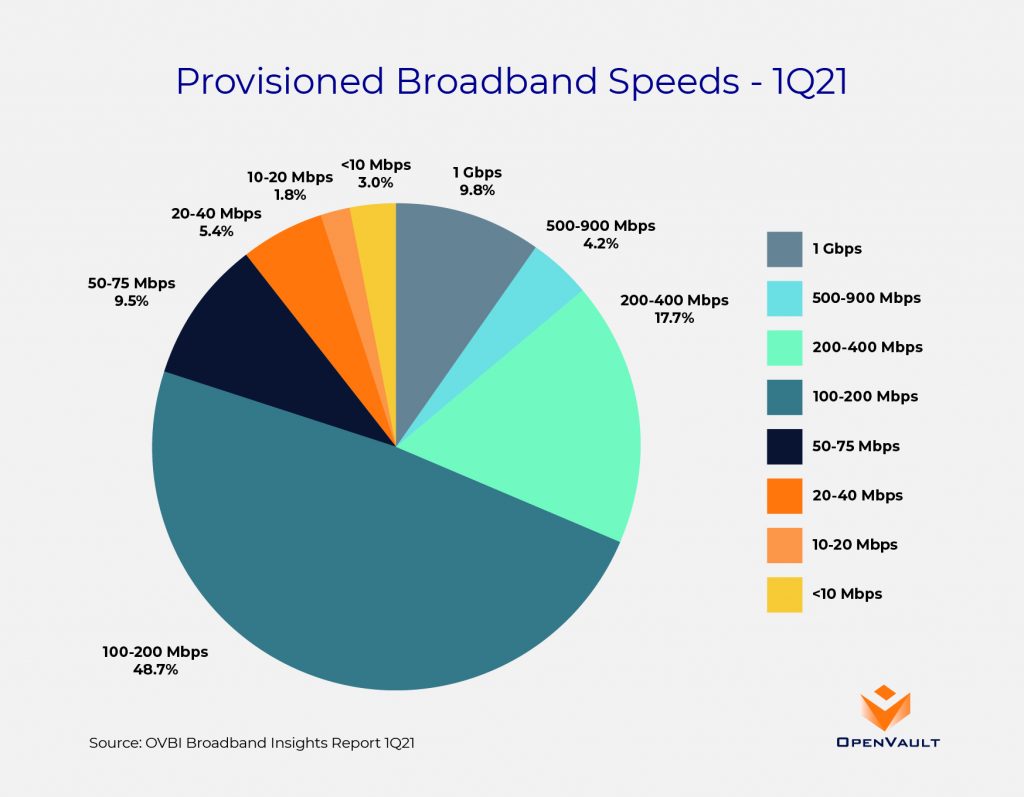 Among the report's other findings:
Monthly weighted average usage grew 15% from the first quarter of last year to 461.7 GB. However that figure was down slightly (4.3%) from 482.6 GB in the fourth quarter of last year.
Power users (those using more than 1 TB a month) dropped 12% compared to the previous quarter to 12.4%.
Extreme power users (2 TB or more a month) fell 14% from the previous quarter to 1.8%
A recent report from OpenVault said that upstream internet traffic grew 350% last year, a bigger jump than what was seen on the downstream side. The last version of the OVBI found that traffic on-network increased by 51% on average due to the pandemic.