The average gigabit subscriber now uses over a terabyte of data (1.057 TB) every month, according to the fourth quarter 2021 OpenVault Broadband Insights Report (OVBI) released recently.
Average broadband consumption is about half that – 512 GB, according to the OVBI report. Average usage increased 23.3% from the same quarter a year earlier.
The report is based on data points from millions of individual broadband subscribers, aggregated from OpenVault's software-as-a-service offering designed to help service providers optimize network performance.
Broadband Subscribers' Monthly Usage
Power users, defined as those who consume 1 TB or more per month, comprised less than 2% of subscribers in 2017 but now comprise nearly 16%, according to the researchers. And super power users who consume more than 2 TB or more of data per month have increased even more sharply, rising from a small fraction of 1% of subscribers in 2017 to 2.64%.
OpenVault researchers have found "lockstep growth in usage and speeds" in recent years. In other words, as consumers subscribe to faster speeds, their average monthly data usage also increases.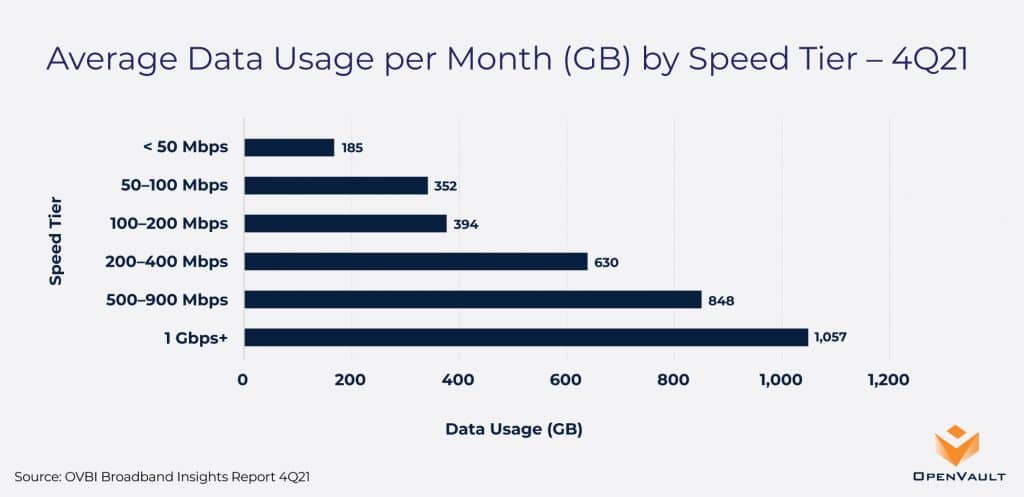 Researchers note, however, that there is a subset of subscribers who have consumption habits that do not align with their provisioned speeds, creating a poor customer experience. Subscribers whose broadband monthly usage exceeds the typical upper level for their speed tier are excellent candidates for speed upgrades, the researchers note.
Among subscribers who subscribe to speeds of 400 Mbps or less, 23.5% are good candidates for speed upgrades, according to the OVBI report.
Provisioned Speeds
Just under one in five subscribers (18%) are provisioned for service at speeds of 500 Mbps or more, including 12.2% who are provisioned for gigabit service, researchers found. The most popular speed tiers, representing almost two-thirds of subscribers, are between 100 Mbps and 400 Mbps.
Other OVBI report highlights:
The average household has 9 streaming services and 25 connected devices
Average upstream usage is 32 GB
Average downstream speed is 269 Mbps
Average upstream speed is 19 Mbps