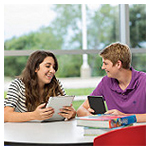 A project in rural Oregon illustrates the potential of the Internet of Things in agriculture, as well as providing an example of how technology can motivate students and support new ways of learning. The agricultural IoT project is a collaborative effort involving IBM, wireless ISP OnlineNW, and the local school district in Dayton, Oregon.  The project goal is to better control mildew that can damage grapevines by using data gathered from a mesh network of wireless sensors located throughout a large vineyard.
Local students have been heavily involved in the project and have undertaken tasks as complex as creating mobile apps for use by the vineyard manager.
"We're finding new ways to prepare talent for the next generation," said Thompson Morrison, innovation evangelist for Innovate Oregon, a statewide organization focused on spurring broadband deployment and applications, in an interview. "In Dayton, agriculture needs students who are data- and IoT-literate."

He noted, for example, that students had to learn Java script in order to develop the mobile app for the vineyard manager – and students were very motivated to gain that knowledge because they saw a practical application for it.
The Agricultural IoT Project
Dayton has the distinction of being one of the nation's first communities to offer 10 Gbps service residentially. The service is delivered over fiber-to-the-home infrastructure deployed by OnlineNW – and OnlineNW made the decision to deploy the service, in part, because the school district committed in advance to being an anchor tenant and even enlisted students to help market the offering.
After their first successful collaboration on gigabit, OnlineNW and the school district again came together on the agricultural IoT project, which also had strong appeal to IBM. The computing giant saw the project as an opportunity to expand its knowledge base about collecting and analyzing IoT data.
The focus of the Dayton agricultural IoT project is a 200-acre vineyard that includes numerous microclimates. As Morrison explained, "different microclimates react differently" to treatments aimed at controlling mildew. He noted that mildew tends to appear in a specific temperature range that occurs in the spring time.
OnlineNW's role in the agricultural IoT project was to deploy the mesh network of sensors and the service provider also has benefited in a variety of ways from its participation in the project, Morrison said. OnlineNW, he said, has "created solutions for an important vertical" market, which could be a "whole new business opportunity for them."
IBM also is working with the Dayton School District on a cloud-based mentoring program called "Mentor Place" that enables students to conference with mentors at IBM over a broadband connection.
Image courtesy of flickr user NEC Corporation of America.