The American Cable Association and NTCA – The Rural Broadband Association this week filed petitions in opposition to Charter overbuild requirements imposed by the FCC as a condition of Charter's acquisition of Time Warner Cable and Bright House Networks. Both organizations represent smaller, rural operators. And both organizations argued that although the requirement was intended to enhance competition and yield better prices and offerings for consumers, it actually could have the opposite effect.
The Charter overbuild requirements call for the company to deploy broadband to two million locations, including one million locations where at least one other company already offers broadband. According to an ACA press release, Charter will be required to deploy broadband Internet of 60 Mbps in areas where speeds of at least 25 Mbps are already available.
In recommending the conditions, FCC Chairman Tom Wheeler said they would "innovation and new choices for consumers." He also said they would "demonstrate the viability of one broadband provider overbuilding another."
ACA argued that the Charter overbuild requirements will have "devastating effects on the smaller broadband providers that Charter will overbuild." The association noted that the requirements could potentially decrease the lifetime value of an ACA member's triple-play customer by as much as 85%. The requirements also could drive some ACA members out of business, ACA said.
Charter Overbuild Requirements
NTCA CEO Shirley Bloomfield noted in a statement that imposing the Charter overbuild requirements would create "artificial competition in areas that cannot support it." She said this will "ultimately undermine, rather than further, broadband availability and affordability."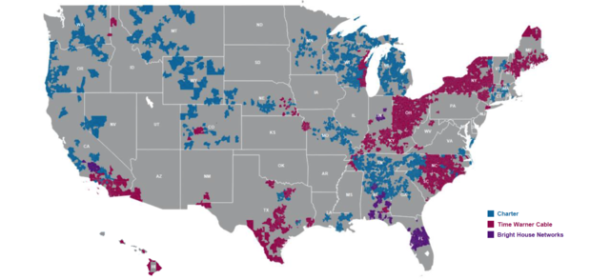 According to NTCA, the Charter build-out requirements adopted were considerably different from what was originally proposed and stakeholders did not have the opportunity to comment on the revised conditions. In a petition filed with the FCC, NTCA notes that the conditions initially proposed would have required a Charter build-out, but would not have required the company to overbuild other providers. Stakeholders were not informed of the planned overbuild requirements until Wheeler issued a statement nine days before the FCC voted to impose the conditions.
"The lack of consideration and coordination with other public policy efforts will lead to duplicative and wasteful efforts to reach certain locations," said Bloomfield.
Not long after the Charter buildout requirements were imposed, Charter CEO Tom Rutledge reportedly said that the company had no intention of overbuilding cable operators. His rationale was that such a move would cause the FCC to oppose any plans Charter might later have to purchase those companies. Instead, he said the company would overbuild telcos. He also noted that his primary telco competition was AT&T or, in some cases, Frontier.
But although ACA members are cable companies and NTCA members are telcos other than AT&T and Frontier, apparently neither association wants to leave the door open for Charter to overbuild their members without a fight.