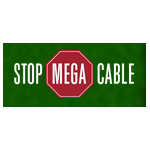 The opposition to a Charter-Time Warner Cable merger has gained a new voice, in the form of a new broad-based group of consumer groups and telecom and cable companies who on January 22 launched the Stop Mega Cable Coalition (Stop MCC). The group aims to raise public awareness of the dangers that excessive concentration of market and industry power pose, they announced in a press release.
Charter Communications' proposed acquisition of Time Warner Cable and Bright House Networks would result in a new ¨Mega Cable¨ company that along with Comcast would create a duopoly in the U.S. market for high-speed broadband service that could result in higher costs and poorer customer service for consumers, Stop MCC claims.
The cable broadband duopoly could also stifle innovation, as well as competition in the market, reducing opportunities for independent programmers and development of streaming services, Stop MCC states.
Opposition to a Charter-Time Warner Cable Merger
In its opposition to a Charter-Time Warner Cable merger, Stop MCC is calling on the FCC and DOJ to act and ensure that antitrust and anti-monopoly legislation dating back to the early 20th century and designed to protect the public interest are upheld.
"Once again we are faced with a proposed cable merger that threatens the emergence of robust competition for streaming services," president and CEO of Public Knowledge Gene Kimmelman was quoted as saying. "This merger, as proposed, would create a cable giant that, alongside Comcast, would control the overwhelming majority of high-speed broadband homes in this country, most of which have very few competitive options."
Furthermore, Charter's proposed acquisition would create strong incentives for Charter and Comcast to coordinate their treatment of video programmers and broadband video distribution in ways that could damage competition and harm consumers, he added.
A new "Mega Cable" company would control more than a third of the markets for cable pay-TV (35 percent) and cable broadband (36 percent). That includes dominant positions in some of the largest and most important geographic markets, including New York City, Los Angeles, Dallas-Ft. Worth, Charlotte and Raleigh-Durham, among others.
Two-thirds of "Mega Cable" subscribers would have no other option for high-speed broadband, Stop MCC highlights.
The Duopoly Effect
Collectively "Mega Cable" and Comcast would control about 90% of all high-speed broadband connections in the country, Stop MCC notes, putting them in a position to control the fate of fast growing and emerging over-the-top ("OTT") services that rely on robust high-speed broadband connections.
Furthermore, the coalition points out that the new "Mega Cable" company and Comcast could coordinate their actions simply by responding to the others' behavior, insulating them against charges of market collusion. This could take the form of parallel action, if not explicit agreements, Stop MCC added.
Their coordinated efforts, according to Stop MCC could include:
Limiting consumer access to stand-alone broadband service, or raising the price to compel consumers to only subscribe to their bundles.
Discriminating against competing streaming services and treating their own content favorably.
Restricting the ability of third-party programmers to distribute their content on competing OTT platforms.
Forcing independent and diverse independent programmers to accept below-market terms, thus jeopardizing their viability.
Stop MCC notes that Charter, Time Warner Cable and Bright House Networks have some of the lowest customer satisfaction scores – not just in the cable industry, but in any industry. In order to merge, "Mega Cable" would take on $27 billion in new debt – about $1,142 in debt for each customer which could be reconciled by passing along these costs to consumers, the group cautions. The group also notes that "Mega Cable" will have every incentive to cut costs by further degrading customer service, limiting investment in new innovations and raising prices.
Trade associations and labor groups have also joined Stop MCC. Following is a list of coalition members:
Cincinnati Bell
Common Cause
Consumers Union
DISH
FairPoint Communications
Future of Music Coalition
Greenlining Institute
ITTA
Media Alliance
NTCA–The Rural Broadband Association
Open Technology Institute at New America
Public Knowledge
Sports Fans Coalition
USTelecom – The Broadband Association
Writers Guild of America, East
Writers Guild of America, West
Zoom Telephonics